Those of you in the TV industry will probably yawn a little when you hear of new new product claiming to be a "TV Studio in a Box". Every time a new company does this it seems they think they're the first to come up with the concept. One of the first to gain widespread acceptance was probably
Tricaster
. Another cheaper PC-based option is
Vidblaster
, which I've used for years although I've recently started moving towards the
Blackmagic Design ATEM
range.
Now there's yet another "TV Studio in a Box" by the name of
TouchCast
. This is a bit different though. First of all, it's a stretch to call it any type of studio - it's an iPad app. That's not as limiting as it sounds as it does allow the live cutting of external and pre-recorded sources. Features include camera controls, built-in teleprompter, greenscreen, video and sound effects, recorded video/photo playback, titles and graphics.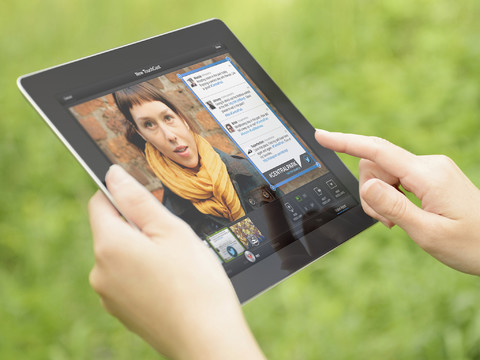 However it's the "point of difference" that makes TouchCast interesting: It creates
interactive
videos. You don't just add live sources and pre-recorded material, you can also add live interactive content such as web pages, maps, polls, etc. These exist in the form of HTML objects and are called "vApps". In order for viewers to use these interactive vApps, the creator has to upload the video to TouchCast's website. vApps won't work outside this framework.
You can get the app at the iTunes store:
https://itunes.apple.com/us/app/touchcast/id603258418
It's
free
with a subscription model for heavy users.
It looks very promising and the early iTunes reviews are positive. When I first saw it I was quite excited until I realized that I don't actually have any use for the interactive features at this stage. Other content creators will find excellent uses for them though, and the ideas will no doubt grow over time.
A word of warning about the TouchCast website... it uses that nasty "mystery meat" navigation where you have to guess what buttons do, the layout is annoyingly gimmicky and counter-intuitive, and several of the videos I tried to watch wouldn't play properly.
Other than that it's definitely worth a look:
www.touchcast.com