Sony has
announced
the new NEX-VG10 ($2000 USD), "...the world's first consumer camcorder with interchangeable lenses and the first Handycam camcorder to feature an extra-large Exmor APS HD CMOS sensor."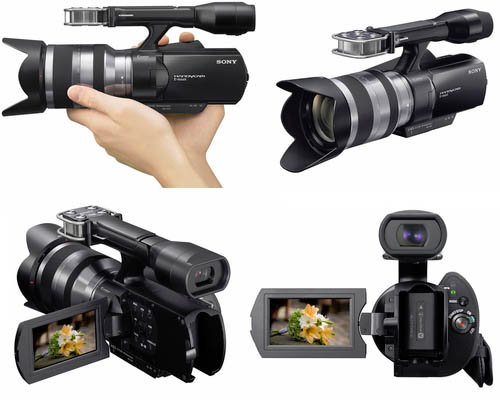 This story could easily have been filed under our
Photography News
section as the camera is basically a digital camera in a camcorder body. The NEX-VG10 uses the same E-mount lens system as the NEX line of digital cameras, and boasts both 1920x1080i video (AVCHD compression) and 14 megapixel still images.
This is obviously aimed at the growing market for shooting video with DSLR cameras (VDSLR or HDSLR), which has thus far been dominated by Canon.
The idea of shooting video on DSLR has been
discussed
a few times in our forum and it's worth pointing out that DLSR is not necessarily ideal for video work, at least at this stage. Multi-function devices tend to require compromise and we've yet to see a camera that performs everything required by both the serious photography and videographer. However Sony is attempting to close the gap with additions such as the "Quad Capsule Spatial Array Stereo Microphone", which is perhaps a long-winded way of saying "we realised that video DSLRs could use a half-decent mic". External audio input is also supported.
A few other notes:
- Comes with 18-200mm lens
- 3.0" swivel LCD display
- Accepts Memory Stick PRO Duo and SD/SDHC/SDXC media (no onboard data storage).
- Includes Sony Vegas Movie Studio HD Platinum 10 video editing software