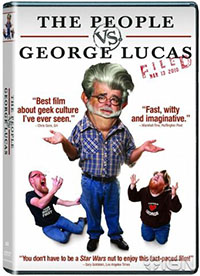 When film reviewer Dave Canfield received a DVD of "The People vs George Lucas" for review he was happy to write about it. Unfortunately for filmmaker Alexandre O. Philippe, it wasn't the type of review he was looking for. It turns out that a friend of Canfield had designed the popular artwork for the film but has yet to be paid a cent. Canfield devoted the
entire review
to exposing this situation. The thrust of the article is that, whilst the lack of payment may be legal according to the contract, it certainly isn't ethical.
For anyone familiar with filmmaking accountancy, this comes as no surprise. Hollywood is plagued by dodgy practices and witholding payments has become routine.
Canfield helpfully supplies Philippe's email address for anyone wishing to sent a personal comment.
For his part, Philippe has promised a response shortly. Watch the comments to see what he has to say.