Organizing After Effects Projects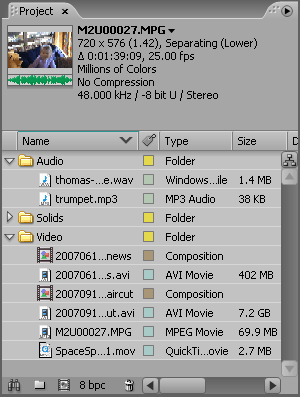 As you import files into After Effects, the project panel can quickly become cluttered. There are a few things you can do to make it more organized and easier to work with.
Sorting
Click the button at the top of any column to sort by that column. For example, click the Type button to list the files according to their type. Click again to list files in the reverse order.
The default is to sort alphabetically by name.
Folders
Files can be placed in custom folders in the project panel. Placing files in folders does not affect anything else in the project, so you can freely move files around as you work. As you import or create new files, you can add more folders to accommodate them.
In a typical project you might have folders for audio, video, still images, compositions, etc. Large projects can also use subfolders; for example, folders for different types of image file or shots recorded on certain dates.

To create a folder, click the folder icon at the bottom of the project panel.
Find

The Find button is located in the bottom left corner of the project panel. Click this to search for items in the project.