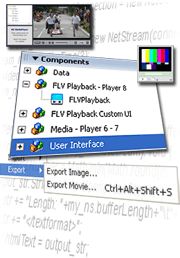 Flash Video Tutorials
Adobe Flash is an excellent choice for delivering video on the Internet. It has better browser penetration and provides more creative opportunities than any other video format. Flash files can include graphics, animation, video, audio and interactive material.
Flash can also be used for other media such as CDs and DVDs.
Flash video is so powerful that it can be intimidating for the newcomer. Don't be put off — it's actually relatively easy to get started.
We recommend that you begin by learning how Flash video works and planning the best approach for your situation. In most cases the easiest thing to do is download a Flash video player and follow the instructions provided — if you know how to copy and paste HTML code you can be up and running quite quickly.
If you have any questions or comments please use the video forum.