Adobe OnLocation
I use Adobe OnLocation to record live events directly from my Sony HVR-Z1P to my Dell Inspiron 9300 laptop. OnLocation takes a live HDV stream straight from the camera and records it with no problem. This is great for three reasons:
It solves the 60-minute limit of MiniDV tapes.
It allows me to check the picture quality on my laptop screen instead of relying on the camera's LCD/viewfinder.
It saves me having to capture the footage from tape - files are ready to go immediately at the conclusion of the event.
The interface is a little unusual, it's quite different to the other applications in the CS3 Master Collection. The main window is designed to behave like a rack, where you add or remove components just like you would in a standard 19" rack in the studio.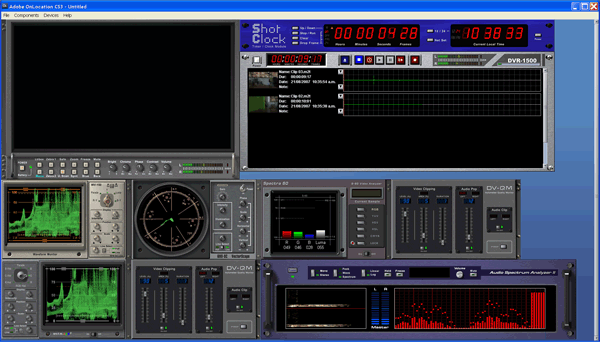 Components include:
Field Monitors (4x3, 19x9, 720p)
Digital Video Recorder
SureShot Camera Setup
DV Quality Monitor
Waveform monitor
RGB Waveform monitor
Vectorscope
Audio Spectrum Analyzer
Spectra 60
DV Grabber
Shot Clock
The components are all a fixed size, which is okay once you get used to it but does feel a bit constrained compared to the beautifully fluid palettes in other Adobe applications. They aren't all the same width either, so you may need to juggle them around a bit to find a good fit. I couldn't actually find a perfect arrangement and I feel that some of my screen space is wasted but it's not a big deal.
I get the feeling that this application has yet to be properly integrated into the Adobe style - a bit like when Adobe acquired Cool Edit. I imagine Adobe will want to tweak the OnLocation interface a bit to make it flow a bit better with the rest of the Creative Suite.
One of my favourite OnLocation features is the real-time waveform monitor. Adobe Premiere Pro CS3 has a waveform monitor but you can't use it in real time - it can only analyse captured files. OnLocation's version is much more practical for capturing work.
Summary
When I purchased the Adobe Master Collection CS3 I didn't really expect to use OnLocation much, if at all. I figured that Premiere Pro does a fine job of capturing so why would I need a dedicated capture utility? I have been convinced otherwise - OnLocation is a nice, light application with specialist features that make it an attractive option for field capturing.
Page info
Author: Dave Owen
Originally published: 2007-08-21