Step 4: Export the Animation
Before you save the animation you should optimise it so the file size is no larger than necessary. Click the flyout menu button at the right of the Animation window and select Optimize Animation. A dialogue box opens like the one below.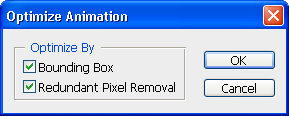 In most cases, leave the default values selected. In case you care, Bounding Box crops each frame to the area that has changed from the preceding frame, Redundant Pixel Removal makes all pixels transparent in a frame that are unchanged from the preceding frame. Click OK.
The last step...
From the main menu select File > Save for Web & Devices. A dialogue like the one below opens. You should be able to leave the settings as they are and click Save.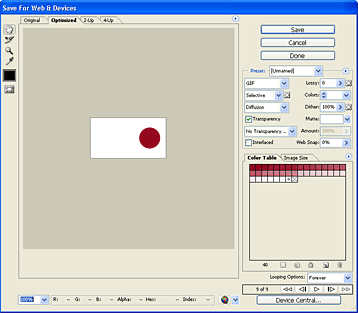 Note: In Photoshop Extended, videos and animations can be exported as an image sequence or QuickTime movie (File > Export > Render Video).
That's it — all done! If you have any questions or comments please post a message in the Graphics Forum.