Link/Unlink Sound and Video in Adobe Premiere
Linking video and audio clips means that they become locked together and act as one. For example, when you move or trim one clip the other will be affected as well. Unlink the files to make them separate.
Link Files
Left-click the video track, hold down your Shift key and click the audio track so both are selected. Right-click either clip and select Link Audio and Video, like so: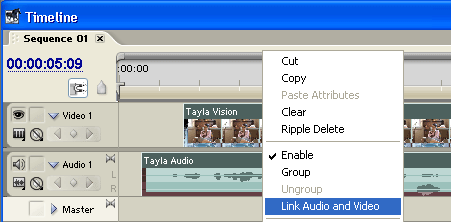 Note: If a video/audio pair is unlinked, moved out of synch and then re-linked, as number shows at the inpoint to show how far out of synch the files are (see the example below).
Unlink Files
Right-click either the video or audio track and select Unlink Audio and Video, like so: