Adobe Soundbooth CS3 Review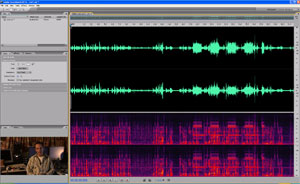 Soundbooth is a simple but reasonably powerful audio editing application designed to edit audio with video files.
Soundbooth has caused some controversy since Adobe announced that it will replace Adobe Audition in video software bundles. Audition is a fully-professional application, whereas Soundbooth is a light-featured new application more geared towards the sound newbie (see Audition vs Soundbooth). Critics have accused Adobe of dumbing down the video bundles and forcing serious editors to spend extra money for the same functionality.
I have to say I was disappointed not to see Audition in the Master Collection bundle, but it's not all bad. Soundbooth is a nice, easy-to-use tool that works well with video. Purists might balk at the wizard-like "common tasks" approach but to be honest it is a good way to get common tasks done.
For example, the Spectral Frequency Display allows you to visualize waveforms and work intuitively with sound clips. Remove unwanted sounds by simply selecting the area on the graphical display. This works very well and will be a lifesaver for many projects.
An interesting feature is the auto-composer for creating free music beds. Using supplied score templates, you can make simple arrangements and adjustments to fit the feel of the video. After the initial excitement of what this could mean for my productions, I was brought down to earth by two problems:
The supplied templates are very limited. For my first test I couldn't find anything that suited the video I was working on. You can purchase more but they are expensive. If I'm going to pay for music, I'll either buy dirt-cheap royalty-free music or hire a real muso. Adobe will need to supply a lot more free templates and/or make their paid ones more attractive before this features appeals to me.
The available adjustments don't work as well as you might hope. For example, you can adjust the musical intensity which is great for some music but often doesn't really do much at all.
Summary
Soundbooth doesn't do a lot of things, but what it does, it does quite well. Most editors who use Premiere will find Soundbooth to be a useful and efficient tool. Sound gurus will definitely prefer Audition, but Soundbooth is a fair compromise between feature-greed and practical application.
Don't be put off Soundbooth because you think it's not "the best". If you want to perform simple enhancements and clean up the little nasties that keep spoiling your videos, and do so quickly without fuss, Soundbooth may be the best choice.
Page info
Author: Dave Owen
Originally published: 2007-09-05