Under Development: Media College App
Last updated: 2012-10-13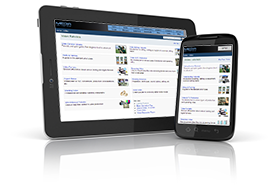 We are currently developing a mobile app that includes a selection of the best tutorials and resources from this website. You'll have hours worth of learning available instantly, whether or not you're connected to the Internet.
We can't say when the app will be ready because we're working on it in our spare time, and there are a number of challenges we haven't yet faced (e.g. getting accepted into the Apple Store).
The cost is likely to be around $5. We may consider a free giveaway for early adopters.
Planned features:
All the tutorials from our video, audio, lighting, photography and graphics sections.
Glossary and miscellaneous other resources.
Links to online resources and updates (e.g. news, forums, blogs).
If you are interested, please let us know using either of the following methods. The more interest we get, the more resources we can put into development.
Go to our Facebook page or Google+ page and write a comment saying you'd like to get the app when it's available.
Like this page using the Facebook and/or G+ buttons below.