Launching Final Cut Pro the First Time
The first time you launch FCP you'll see a dialogue box called Choose Setup. This is essentially the same as the Easy Setup window (pictured below) which you can access at any time by selecting Final Cut Pro > Easy Setup.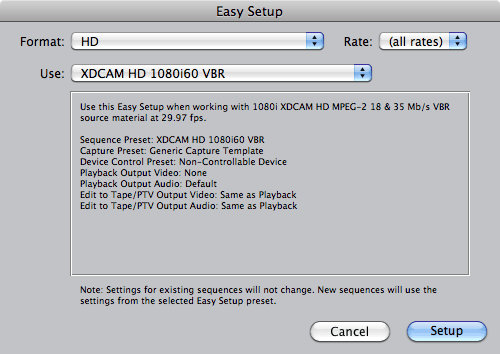 Click the Use drop-menu to see the full list of available format settings and select the one best suited to your needs. If you'd like to narrow this list, click the Format drop-menu and select one of the options (HD, NTSC, PAL, OfflineRT). You can also select a frame rate from the Rate menu.
The Primary Scratch Disk menu lets you specify which hard drive to use to store your media (video files, etc). Ideally you should have a separate dedicated hard drive for this purpose, but if not, just use the default.
Once you've selected the format and scratch drive, click OK.
External A/V
The next dialogue box is External A/V. FCP is looking for a camera or other device connected to your Mac. You can either connect the device now and click Check Again, or click Continue to work without the device. In any case you might want to check the Do not warn again box to prevent this window from opening every time you launch FCP.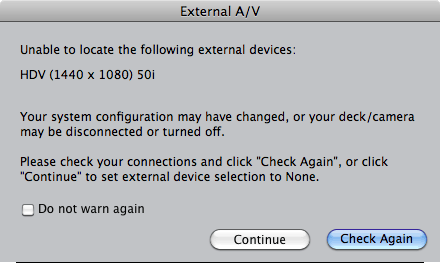 From here you are ready to create a new project and get started.