How to Start Your Own Band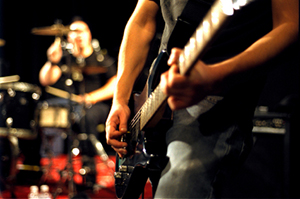 Love music? Play an instrument or sing? Why not start a band!
Being in a band is an excellent creative outlet which takes dedication, patience and a surprising amount of people skills but can reap a huge host of rewards. Fame and fortune may be possible but for now let's focus on making some great friends and having fun.
Style and Genre
It's important to have a decent idea of what you want to play before you start off. Try writing down three of your favorite bands and imagine what they would play if they were put together. Have one or two genres in mind, a rock band with a folk influence or a funk band with piano. Sticking with a specific musical idea is a much faster way of trying to write than jamming for hours and hoping something comes of it.
Musicians
Finding musicians isn't as hard as you'd think; even small towns hide a great amount of musical talent. Take out an ad in a local paper, leave cards in instrument stores and use sites such as craigslist.com. Leave a description of your influences and what instruments you are looking for. For a rock band you'll need drums, bass, guitar and a vocalist at least.
Meeting Up
Ideally you'll want a big space such as a garage or basement which can comfortably fit a full band. Be aware this can create noise and safety issues and you should let your neighbors know when you will be practicing. Keep to reasonable hours and make sure gear is kept locked away.
You can also try asking your local music shop or looking online for practice rooms that are rentable by the hour. Hiring a room for a couple of hours once or twice a week is reasonably inexpensive and they often have equipment such as drums, a vocal PA, microphones and guitar amps that can be hired for a small fee.
Arrange the first meet up and make sure everyone knows the time and place. It's a good idea to send a list of 3 or 4 well-known songs people can practice on their own in preparation. Turn up early and when others start to arrive, keep things relaxed and keep the conversation geared toward what music everyone is in to.
Practice
The first practice should be focused on seeing how everyone plays without taking things too seriously. If the songs are going well and you seem to be working together as a group, this is where you should step up; it's important that one person is a clear leader. Having someone to make the big decisions and keep the band organized will help you immensely further down the line.
Leadership
Without being a dictator, you have to take the role of manager, conductor and negotiator. Always ask and value every member's opinion before making a decision and remember that without them there is no band.
Arrange another practice soon and agree on a few more songs to cover. This is a great time to ask people to try to write a riff or a few lyrics to bring back and work on next time.
Songs
When you get back together, spend a little time on covers to warm up, and then ask someone to throw out an idea. Try writing an 8-bar riff that is catchy and memorable, and then change up the chords to come up with a verse. You should be conducting people to start and stop, letting them know when something isn't great or sounds good.
Keep things simple. Get one song down with a short intro, first verse, chorus, second verse, final chorus and end together. Go over it a few times, get everyone to write down their parts and hey presto - you have your first song!
Practice
Arrange regular practice sessions and ensure people turn up regularly and on time. If people can't make it they should let you know so you can inform the rest of the band or get someone to fill in. After a few weeks it's time to start thinking about getting serious.
Name
Get suggestions from friends and family, write them all down and agree what you don't want. Come up with a shortlist and let everyone decide their favorite. Take a vote and stick with it, this is going to be the first thing most potential fans hear or see so it should be something that fits with your band's identity.
Demo
Put some money together to buy a few hours time at a small studio or find a friend with the right equipment to do a decent recording. Know exactly what songs you want to record and have them polished - three or four should be perfect. Keep everyone on their toes and do your best. Once the songs are down it's up to you how professional you want the demo to be.
In this age the best bet is to get the artwork done by a friend and burn your own CD's. These should be given out for free or sold very cheap to get the maximum amount of people listening to your tracks.
Gigs
Get local bands, venues and promoters to put you on by giving them your demo and contact details. Work out an image if you like, get everyone pumped up and moving about when playing and always mention your band name, where you are playing next and where to hear more.
Promotion
Set up band profiles on sites such as myspace.com, with songs available for free listening, regular gig and blog updates. Consider a website and start thinking about merchandise. Most new bands make little money from gigs or records directly but sell well-designed t-shirts.
The Future
The sky's the limit from here and it's all up to how hard you work. You should be writing new songs and practicing old ones, keeping up appearances on your local music scene and looking to start touring. Socialize with other bands and contact local record labels about contracts or putting out a stand-alone album.
Above all, the most important thing is to remember to always enjoy what you are doing!