SmartMedia Cards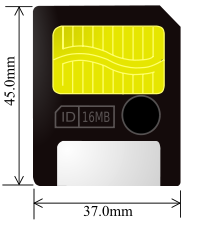 SmartMedia Card
SmartMedia is a storage format developed by Toshiba and released in 1995. The format reached peak popularity around 2001 but was eventually superseded by smaller cards with larger capacity and fewer problems. SmartMedia cards and devices are no longer produced.
SmartMedia cards ranged in capacity from 2 MB to 128 MB (a 256 MB version was planned by never eventuated).
SmartMedia cards were commonly found in digital cameras and portable audio devices, although they were also used in other devices such as PDAs. Some computers were built with SmartMedia ports; otherwise an external reader was required.
SmartMedia cards have a reputation for failing, especially when used with a reading device. Corrupted cards become unreadable and cannot be formatted. However most of these failed cards can actually be repaired fairly easily by recovery experts.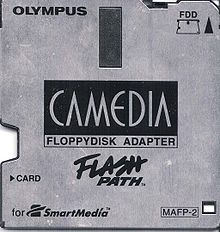 FlashPath Adaptor
Floppy Drive Adaptor
Originally SmartMedia was intended to replace floppy disks, in fact at one stage it was named Solid State Floppy Disk Card (SSFDC).
Adaptors called FlashPath were available to enable the card to fit into a 3.5" floppy drive. The SmartMedia card was inserted into the FlashPath adaptor, and the FlashPath adaptor was inserted into the floppy drive. This was a very handy way to dramatically increase portable storage before CD writers became widely adopted.
The FlashPath adaptor required a software driver to work, so it is only usable with operating systems that have such a drive available.