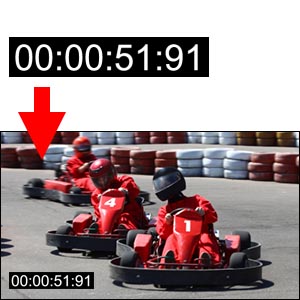 Timecode Displays for Video: 1/100 Second Clock
Note: These timecode files display hundredths of a second, not frame numbers. Standard timecode displays (HH:MM:SS:FF) are available here.
The video clips below are timecode displays which can be downloaded and used with your video projects to provide a clock reference using increments of 1/100 second. However you need to understand that most video formats do not actually have 100 frames per second (PAL is 25fps, NTSC is 29.97fps), so you won't get 1/100 second accuracy. Your clock will only be as accurate as the video format you use. If you want to create video that is accurate to 1/100 of a second, you'll need a specialist camera and playback system that can handle that speed. Consumer equipment does not do this.
The timecode clips are 200x40 pixels and can be placed anywhere in your video frame, as per the example on the right.
Notes:
Choose the correct format to suit your project from the list below.
MP4 and MOV files use the H.264 codec.
If you have any problems or comments about these files please let us know.
| | | |
| --- | --- | --- |
| IMPORTANT: Once you are satisfied that the file will work for you, please consider donating a few dollars to help pay for the download. Donations are handled by Paypal — click the button on the right to continue (a new window will open). Thanks! | | |