The Television Makeup Artist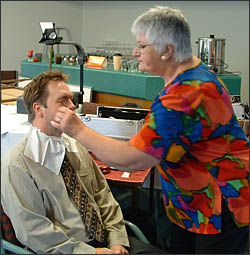 The makeup artist is responsible for any makeup or other decorations which are applied directly to the skin or hair. Hairstyle is included.
Television makeup is used to:
Make faces appear natural under various lighting conditions.
Improve or alter the appearance of talent, actors, etc.
Add to the character of an actor, e.g. happy or tired appearance.
Create special effects, e.g. age, wounds, etc.
In drama, the makeup artist will consult with the director, wardrobe and actors about the look and feel of characters.
Makeup must be kept consistent from scene to scene — this can involve a lot of organization for out-of-sequence shooting.
In live/studio television, the makeup artist is often seen on set during breaks to perform touch-ups.
Required Skills
Formal qualifications are not always required, but it would help to have completed a course in film and television makeup.