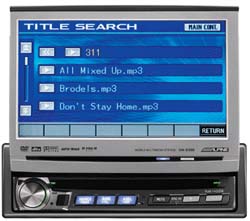 Alpine IVA-D300
Mobile Multimedia Station
Features:
• PulseTouch™ Display
• 7" Fully Motorized Monitor
• 50W MAX x 4/18W RMS x 4 High Power Amplifier
• Dolby Digital/DTS Decoder Ready (Processor Required)
• DVD-R/RW Compatible
• MP3 and WMA Playback
• MP3 ID3 Tag Information
• Satellite Radio Ready
• DVD Menu Direct Touch Control
• iPersonalize™: Data Download, Amplifier Link, Bass Engine Plus™ (Subwoofer Level Control, Subwoofer Phase Selector, Bass Center Frequency Control, Treble Control , Treble Center Frequency Control, Bass Width Control, 2-Way Selectable Crossover, 3-Position HP/LP Crossover Control (12dB/oct.) 4 Ch, Adjustable Digital Time Correction, 4 Band Parametric EQ, Factory Preset EQ, Bass Focus, Bass Type Selection)
• Visual EQ
• MaxTune SQ Tuner
• 3 PreOuts
• iPod™ Interface Ready (KCA-420i)
• Rear Camera Input
• Navigation Input
• 1 A/V Input
• 1 Independant A/V Output
• Navi Mix
• MediaXpander
• PXA-H701/MRA-D550 Touch Control Ready
• Audio Signal Loop Ready
PulseTouch™
The IVA-D300's PulseTouch™ Display is easier to use than any other touch panel on the market. It uses different vibrations and pressures that simulates pushing a real mechanical button. When tapping, holding, sliding or touching where there are no commands, You get a different feel at you finger tips.
Navigating
The Menu locations and button positions for different components are always in the same place. This smart layout of buttons, together with their tactical response, ensures that users can quickly and easily find controls without even looking at the screen. The IVA-D300 can command a wide range of Touch Control Ready components, for easy control of an entire system.
DVD Menu Direct Touch Control
Unlike traditional screens that simply emulate remote control operation, forcing you to move a cursor to select what you want on the on-screen menu, then push a play button, DVD Menu Direct Touch Control allows you to simply touch the menu option directly to engage it. Since the options on different DVDs are in different places, this is the most intuitive and fastest method for controlling DVDs.
Brightest Touch Panel Monitor
With previous on-screen displays, images were in the form of 512 characters, for text display only. The IVA-D300 uses an additional ROM that contains 2,048 characters, including pictodata. This makes it possible to form high quality images that are nearly as those of the industry-leading IVA-D901.