Canon EOS 6.3MP Digital Rebel Camera with Lens
Features
6.3-megapixel resolution for photo-quality poster-plus sized enlargements
Includes Canon's EF-S 18-55mm, f3.5-5.6 zoom lens
1.8-inch LCD screen lets you zoom in on images in preview; 2.5 frames-per-second continuous shooting speed with 4-shot burst mode
Store images on CompactFlash type 1 or 2 memory cards; Microdrive compatible; no memory card included
Powered by a rechargeable lithium-ion battery pack (included with charger)
Product Description From Amazon.com:
The Canon EOS Digital Rebel brings advanced digital performance and SLR controls to everyday photographers. Whether you're new to digital cameras, SLR cameras, or even photography itself, you'll find that the EOS Digital Rebel is powerful, yet fun and easy to use. It features a 6.3-megapixel sensor, automatic and manual controls, and compatibility with Canon's range of EF lenses.
This model comes with the Canon EF-S 18-55mm, f3.5-5.6 zoom lens. Compact and ultra-lightweight with impressive close-focusing ability, this lens features optimized coating for the Digital Rebel's imaging sensor to minimize ghost images and flare. It comes with lens cap and dust cap.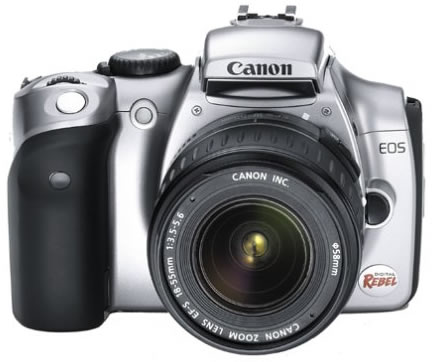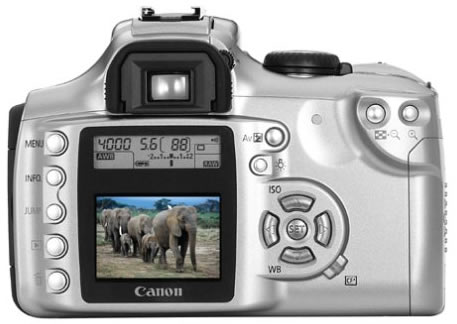 Specifications
| | |
| --- | --- |
| Type: | Digital AF/AE SLR |
| Recording Medium: | Type I and II CF card |
| Imaging Size: | 0.89 x 0.59 inches (22.7 x 15.1mm) |
| Compatible Lenses: | Canon EF including EF-S lenses. (Focal length conversion factor: Equivalent to approx. 1.6x indicated focal length compared to 35mm format.) |
| Lens Mount: | Canon EF mount |
| Imaging Element Type: | High-sensitivity, high-resolution, single-plate, color CMOS |
| Pixels: Effective pixels: | Approx. 6.3 megapixels |
| Total Pixels: | Approx. 6.5 megapixels |
| Aspect Ratio: | 2:3 (Vertical:Horizontal) |
| Color Filter System: | RGB primary color filter |
| IR Cut Low-pass Filter: | Located in front of the imaging element, non-removable |
| Recording Format: | Design rule for Camera File system (JPEG) and RAW. Exif 2.2 compliant |
| Image Format: | JPEG and RAW (CRW) |
| File Size (on CF card): | JPEG: (1) Large/Fine: Approx. 3.1MB (3072 x 2048), (2) Large/ Normal: Approx. 1.8MB (3072 x 2048), (3) Middle/Fine: Approx. 1.8MB (2048 x 1360), (4) Middle/Normal: Approx. 1.2MB (2048 x1360), (5) Small/Fine: Approx. 1.4MB (1536 x 1024), (6) Small/Normal: Approx. 0.9MB (1536 x 1024); RAW: Approx. 7MB (3072 x 2048) |
| Folder Setting: | Automatic |
| File Numbersing: | (1) Serial numbering, (2) Auto reset |
| Processing Parameters: | Standard parameters plus up to three custom processing parameter sets can be set |
| Interface: | USB |
| White Balance Setting: | Preset: (Auto, daylight, shade, overcast, tungsten bulb, fluorescent light, flash.) Manual : (Custom: read off photo quality gray card or white subject.) |
| Viewfinder Type: | Eye-level SLR (with fixed pentamirror) |
| Coverage: | Approx. 95 percent vertically and horizontally (Coverage against JPEG Large) |
| Magnification: | 0.8x (-1 diopter with 50mm lens at infinity) |
| Eyepoint: | 21 mm |
| Buit-in Dioptric Correction: | -3.0 - +1.0 diopter |
| Focusing Screen: | Fixed |
| Mirror: | Quick-return half mirror (Transmittance: reflectance ratio of 40:60, no mirror cut-off with lenses up to EF 600mm f/4) |
| Viewfinder Information: | AF points, AE lock, FE lock, AEB in progress, flash ready, improper FE lock warning, high-speed sync, flash exposure compensation, shutter speed, bulb, FE lock, processing data, aperture, exposure level (exposure compensation, manual exposure level, AEB level, flash exposure compensation, red-eye reduction lamp-on indicator), Max. burst during continuous shooting, AF/MF focus confirmation, CF card full, CF card error, no CF card |
| Depth-of-field Preview: | Enabled with depth-of-field preview button |
| Eyepiece Shutter: | None ( provided with neckstrap) |
| Autofocus Type: | TTL-CT-SIR with AF-dedicated CMOS sensor |
| AF Points: | 7 |
| AF Working Range: | EV 0.5 -18 (at ISO 100) |
| Focusing Modes: | One-Shot AF, Predictive AI Servo AF, AI Focus AF (Automatically selects One-Shot AF or AI Servo AF selected according to shooting mode), Manual Focusing (MF) |
| AF Point Selection: | Automatic selection, manual selection |
| Selected AF Point Display: | Superimposed in viewfinder and indicated on LCD panel |
| AF-assist Beam: | Intermittent firing of built-in flash, effective range: approx. 13.1 ft/4m at center, approx. 11.5 ft/3.5m at periphery |
| Metering Modes: | Metering Modes: Max. aperture TTL metering with 35-zone SPC. (1) Evaluative metering, (2) Partial metering at center (approx. 9 percent% of viewfinder), (3) Centerweighted average metering (in manual exposure mode) |
| Metering Range: | EV 1-20 (at 68 degrees F/20 degrees C with 50mm f/1.4 lens at ISO 100) |
| Exposure Control System: | Program AE (shiftable), shutter-priority AE, aperture-priority AE, auto depth-of-field AE, full auto, programmed image control modes (Portrait, Landscape, Close-up, Sports, Night Portrait, and Flash OFF), E-TTL autoflash program AE, and manual. |
| ISO Speed Range: | Equivalent to ISO 100-1600 |
| Exposure Compensation: | Up to +/-2 stops in 1/2 or 1/3-stop increments (1) AEB (Auto exposure bracketing). (2) Manual exposure compensation. (3) Flash exposure compensation. |
| AE Lock: Auto: | Operates in One-Shot AF mode evaluative metering when focus is achieved. Manual: Enabled with AE lock button. No AE lock in Basic Zone modes. |
| Shutter Type: | Vertical-travel, mechanical, focal-plane shutter with all speeds electronically-controlled. |
| Shutter Speeds: | 1/4000 to 30 seconds (1/3 increments), bulb, X-sync at 1/200 seconds |
| Shutter Release: | Soft-touch electromagnetic release |
| Noise Reduction: | None (Not necessary) |
| Self-time: | 10-seconds delay |
| Remote Control: | Remote control with RS-60E3 terminal or wireless Remote Controller RC-1 and RC-5 |
| Built-in Flash: | Type: Auto pop-up, retractable, built-in flash in the pentamirror hump; Guide No: 13/43 (at ISO 100 in meters/feet); Recycling time: Approx. 3 seconds; Flash-ready indicator: Flash-ready indicator lights on in viewfinder; Flash coverage: Up to 18mm focal length (equivalent to approx. 28mm in 35mm format); EOS-dedicated Speedlite: E-TTL autoflash with EX-series Speedlite |
| Drive Modes: | Single, Continuous selected automatically according to shooting mode, Self-timer |
| Continuous Shooting Speed: | Approx. 2.5 fps (at 1/250 sec. or faster for all recording qualities) |
| Max. Burst During Continuous Shooting: | 4 shots |
| LCD Monitor Type: | TFT color LCD monitor |
| LCD Monitor Size: | 1.8 inches |
| Pixels: | Approx. 118,000 pixels (Displayed pixels) |
| Coverage: | Approx. 100 percent (for JPEG images) |
| Brightness Adjustment: | 5-levels (settable with menu's "LCD brightness") |
| Image Display Format: | (1) Single image, (2) Single image with information, (3) 9-image index, (4) Enlarged, (5) Auto play |
| Highlight Alert: | In the single image with information display mode, the highlight portions containing no image information will blink. |
| Image Protection: | A single image can be protected or unprotected |
| Image Erase: | A single image or all images stored in a CompactFlash card can be erased if they are unprotected |
| Menu Categories: | (1) Shooting Menus [8], (2) Playback Menus [4], (3) Setup Menus [14] |
| LCD Monitor Language: | English, German, French, Dutch, Danish, Finnish, Italian, Norwegian, Swedish, Spanish, Chinese (simplified), and Japanese. |
| Firmware Updating: | Enabled by the user |
| Battery: | One Battery Pack BP-511/512 (lithium ion rechargeable battery) |
| Dimensions: | (W x H x D): 5.6 x 3.9 x 2.9 inches / 142 x 99 x 72.4 mm |
| Weight: | 19.7 ounces / 560 g |
| Working Temperature Range: | 0 - 40 degrees C / 32-104 degrees F |
| Working Humidity: | 85 percent or less |
| EOS Digital Rebel Kit Contents: | EOS Digital Rebel Body, Digital Camera Solution CD-ROM, Adobe Photoshop Elements, Video Cable VC-100, Interface Cable IFC-300PCU, Wide Strap EW-10DB II, Battery Charger CB-5L, Battery Pack BP-51 |