Canon GL2 MiniDV Camcorder

Features

Professional-quality MiniDV camcorder and still camera with 3 CCD lens
20x optical zoom lens (digital zoom to 100x) and image stabilizer
2.5-inch LCD with 270-degree rotation
Save to MiniDV tape or MMC/SD card (8 MB SD card included)
Record for up to 65 minutes on one battery charge

Product Description From Canon:

The Canon GL2 (like its predecessor, the GL1, and its big brother, the XL1) is helping to blur the line between consumer and professional video equipment. This camcorder borrows most of those cameras' professional-quality components and puts them into a more compact, affordable camera. Though it's small enough to carry around and doesn't cost much more than a top-of-the-line consumer camcorder, the GL2 produces such high-quality results that it could be used as a broadcast video camera.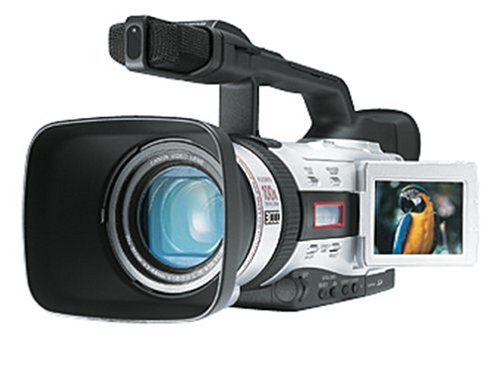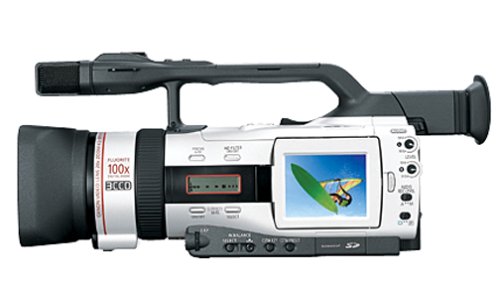 Specifications
| | |
| --- | --- |
| Video format: | MiniDV |
| Power supply (rated): | 7.2 V DC |
| Power consumption: | 4.8 W (using viewfinder), 5.7 W (using LCD screen) |
| Television system: | EIA standard (525 lines, 60 fields) NTSC color signal |
| Video recording system: | 2 rotary heads, helical scanning systemDV system (Consumer digital VCR SD system)Digital component recording |
| Audio recording system: | PCM digital sound: 16 bit (48kHz/2ch), 12 bit (32kHz/4ch) |
| Image sensor: | 3 CCD 1/4" Pixel Shift (charge coupled device) 410,000 pixels (380,000 effective pixels) |
| Tape format: | Videocassettes bearing the MiniDV mark |
| Tape speed: | SP: 3/4 ips (18.81 mm/sec.), LP: 1/2 ips (12.56 mm/sec.) |
| Maximum recording time (with an 80-min. cassette): | SP: 80 minutes (with an 80-min. cassette); LP: 120 minutes (with an 80-min. cassette) |
| Fast forward/rewind time: | 2 min. 50 sec. (with a 60 min. cassette) |
| Focusing system: | TTL autofocus, manual focusing possible |
| Minimum focusing distance: | 3 feet 3 3/8 inches (1 m) - 3/8 inches (1 cm)on maximum wide angle |
| Maximum shutter speed: | 1/15,000 seconds |
| Minimum illumination: | 6 lux |
| Recommended illumination: | More than 100 lux |
| Filter diameter: | 58 mm |
| Viewfinder: | 0.44 in., color LCD (approx. 180,000 pixels) |
| LCD screen: | 2.5 in. measured diagonally (6.4 cm), 200,000 pixels (approx.) |
| Microphone: | Stereo electret condenser microphone |
| DV terminal: | Special 4-pin connector (based on IEEE 1394) |
| Video terminal: | 1 Vp-p/75 ohms unbalanced |
| S-video terminal: | 1 Vp-p (Y signal), 0.286 Vp-p (C signal) |
| Audio terminal: | -10dBV, less than 3 kohms, unbalanced |
| Operating temperature range: | 32 - 104º F (0 - 40º C) |
| Dimensions: | 4 5/8 x 5 3/8 x 12 inches (118 x 136 x 306 mm) |
| Weight: | 2 pounds 7 1/2 ounces (1.25 kg) |
| Recording media: | MultiMedia Card, SD Memory Card |
| Image format: | Design rule for Camera File system (DCF) |
| Print order format: | Digital Print Order Format (DPOP) |