Canon XF 305 HD Video Camera
Product Description:
anonís newest professional digital video camera for event videographers, film makers, news gatherers, and live multi-camera environments - is truly state of the art. Featuring a genuine Canon 18x HD video lens, 3CMOS sensor system, and DiG!C DV III, the Canon XF305 records breathtaking Full HD video direct to CF cards. Designed through feedback from professional camera operators, the XF305 is also very mobile, with excellent balance between operation and weight.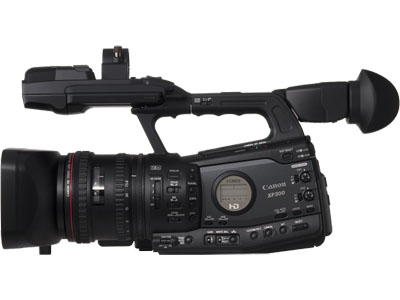 Features
Canonís first Professional file-based HD Video Camera
Versatile file-based recording, direct to readily available CF Cards allowing easy integration in to standardized workflows

Super fast processing with 1/3 inch 3CMOS Sensor System
A low noise system supporting slow and fast motion shooting and faster scanning reducing rolling shutter skews

Super Range Optical Image Stabilizer and Instant AF
Dynamic, Powered, and Normal image stabilization settings. Instant AF with Face Detection technology

New HD L Lens: 29.3 - 527.4mm f/1.6 Ė f/2.8 with 18x Optical Zoom
Equipped with a large L series Lens with a centre resolution of 1,000 TV lines, offers enhanced resolution at all zoom levels

Industry standard MXF format support
Material Exchange Format (MXF) is an established international standard which enables the use of metadata in broadcasting and other applications

MPEG-2 FULL HD (4:2:2) recording codec
This newly developed Canon XF codec enables high quality imaging and audio performance with up to 50Mbps data recording

4.0 inch LCD with 270į rotation and Viewfinder
A freely rotating 270 degree (left and right), 35 degree (front), 4.0 inch 1.23MP HD LCD Panel with 100% coverage allows for greater usability and mobility

Industry Standard Terminals
Genlock, HD / SD SDI and Time Code for seamless integration into multi camera live switch shoots

Specifications
Video System:
Format Type:
Movies: CF Card Type I only (2 Slots), UDMA4 recommended
Stills: SDHC/SD
Sensor:
1/3 inch 3CMOS
Image Processor:
DiG"C DV III
Movie Compression System:
MPEG-2 Long GOP 4:2:2 (50 Mbps)
File Format:
MXF
Image Pixels:
Effective Pixels:
1920 x 1080
Lens:
Optical Zoom:
18x
Focal Length (nominal):
4.1 . 73.8mm
Focal Length (35mm equivalent):
Approximately 29.3 . 527.4mm
F number:
f/ 1.6 . 2.8
Filter Diameter :
82mm
Focus Ring:
Provided (electronic ring); either [AF/MF] mode with no rotational limit or [FULL MF] mode with rotational limit and distance indicator can be selected.
Zoom Ring:
Provided (electronic ring). Focal length indicator, zoom limit provided. Manual zoom/Power zoom.
Zoom Rocker:
One of three settings (Slow, Normal or Fast) can be selected for the power zoom mode and, in each mode, either a variable speed (16 steps) or fixed speed (16 steps) can be set.
Iris Ring :
Provided (electronic ring)
Aperture leaves:
6 iris aperture leaves, material used: Metal (treated for immunity from sunlight-induced burns)
Close up distance:
1 m (entire zoom range), 20 mm with wide macro
Image Stabilizer:
Optical system (lens shift system adopted/Super range system support)
Zoom/focus preset function:
None
One push AF function:
Button operation
ND filter:
3 steps of ND1 (ND: 1/4), ND2 (ND: 1/16), ND3 (ND: 1/64)
Material used: Glass (treated for immunity from sunlight-induced burns)
Filter diameter and pitch:
82 mm / P0.75 mm
Recording Specifications
50 Mbps CBR (4:2:2) [422P@HL]
1920 x 1080 - PAL . 50i / 25P
1280 x 720 - PAL . 50P / 25P
35 Mbps VBR (4:2:0) [MP@HL]
1920 x 1080 - PAL . 50i / 25P
1280 x 720 - PAL . 50P / 25P
25 Mbps CBR (4:2:0) [MP@H14]
1440 x 1080 - PAL . 50i / 25P
Control/Balance
Light Metering Method:
Centre-weighted / Spot / Backlight Correction
Exposure Compensation:
+/- 7steps
White Balance Mode:
AWB, Set (2 positions). Preset (Daylight/Tungsten), Colour Temperature (2,000K . 15,000K)
Illumination
Min Illumination:
3.8 Lux (shutter speed 1/50 sec), 0.05 Lux (shutter speed 1/3 sec)
LCD / Viewfinder
View Screen / Pixels:
4.0 inch 16:9 ratio wide screen LCD screen (1,230,000 dots), 100% coverage
Angle adjustment enabled with high, low angle support and self portrait shooting possible
Brightness, contrast, colour, sharpness and backlight adjustment
Viewfinder (Colour):
0.52 inch 16:9 ratio wide screen LCD screen (1,555,000 dots), 100% coverage
Angle adjustment enabled.
+2.0 to -5.5 diopter, 3-lens configuration
Brightness, contrast, colour, sharpness and backlight adjustment
Filming Models & Controls
Recording Modes:
Auto / 50i / 25P
Special Recording Modes:
Frame Rec, Interval Rec, Slow & Fast Motion, Pre-Rec
Audio
Audio Data:
Linear PCM (16-bit, 48KHz), 2-ch
Audio Level Metering:
Manual audio level VR metering & control
Wind Screen:
Wind Low-Cut setting x2
Still Image Recording
Capture Size:
1920x1080
Memory Card Type:
SDHC / SD slot
Power
Input Power Supply:
7.4 V DC (Battery Pack), 8.4 V DC (DC IN)
Interface
Input Signals:
XLR 3-pin jack
Output Signals:
HDMI (Type-A)
USB (mini-B, USB 2.0 Hi-Speed)
AV (3.5mm, 4-pole mini-jack)
Component
Headphone (3.5mm Stereo mini-jack)
Remote (2.5mm Stereo mini-jack)
Video2 terminal (BNC Connector)
Genlock input (BNC Connector)
HD /SD SDI output (BNC Connector)
Time Code input / output (BNC Connector)

Operating Platforms:
PC: Windows XP SP2/SP3 (32-bit), Vista SP1/SP2 (32/64-bit), Windows 7 (32/64-bit)
Mac: OS X 10.4 to 10.6
General
Dimensions W x H x D:
153 x 236 x 382mm
Weight excluding battery
Approximately 2,630g