Canon XH A1 Video Camera
Product Description:
Building on the image quality of the award winning XL H1 model, the XH A1 High Definition video camera features three 1/3 inch native 16:9 1440 x 1080 CCDs with pixel shift technology to capture HD video at 1080i resolution. The genuine Canon 20x zoom Fluorite and UD lens with 'Super Range Optical Image Stabiliser' and 'Instant AF' autofocus is developed specifically for the optical demands of High Definition capture. Meanwhile, the Canon DiG!C DVII processor takes care of the huge data processing requirements that HD shooting demands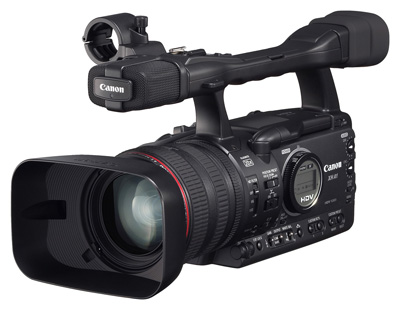 Features
True 1080 High Definition image capture in 50i or 25F frame rates.

Genuine Canon High Definition 'L Series' 20x Video Lens with 'Super Range Optical Image Stabiliser', 'Instant AF' autofocus and manual Iris ring control.

3CCD imaging sensor system incorporating 3 x 1/3" 1.67 Megapixel CCDs.

Canon DiGIC DV II processor developed specifically for high definition.

Ergonomic and compact design with fold-away LCD screen and recessed battery compartment.

2 channel XLR audio input with adjustable levels control.

Customisable image control and handling characteristics.

Optional Console software and upgrade to 60i, 30F or 24F frame modes.

Specifications
Image sensing device:
Image size:
1/3-inch CCD
System:
3-CCD horizontal pixel shift
Total pixels:
1.67 megapixels per CCD
Number of effective pixels (per CCD):
HD: Approx. 1.56 megapixels
SD/4:3: Approx. 1.17 megapixels
SD/16:9: Approx. 1.56 megapixels

Lens:
Optical zoom magnification:
20x HD VIDEO Lens
Focal Length:
4.5 – 90mm
F number:
f/ 1.6 . 3.5
Aperture leaves:
6 leaves, iris diaphragm
Zoom speed:
Handle zoom: Fixed speed (16 speed level settings available)
Grip zoom: Variable speed/Fixed speed (16 speed level settings available)
Iris ring:
Yes (electronic ring)
Filter diameter:
72mm
Minimum illumination :
Auto mode (when 50i is selected): Approx. 5 lux (shutter speed 1/50,Gain 18dB)
Manual mode GAIN 18 dB, f1.6, 50i is selected: Approx. 0.3 lux (shutter speed 1/3)
Image stabilizer:
Image stabilisation system: Optical Image Stabilisation
Sensing method: Angle detection and movement vector detection
Shooting functions:
AE mode
Auto mode, Tv mode, Av mode, Manual mode, Spotlight mode, Night mode, Full Auto mode
Metering System (TAPE)
Centre weighted average: Full Auto mode, Auto mode, Night mode, Tv mode, Av mode and Manual mode
Evaluative metering (128-segments): Spotlight mode
Metering System (CARD)
Selectable from center-weighted average/evaluative/spot: Auto, Tv, Av, Manual
Evaluative metering (128-segments): Night, Spotlight, Full Auto mode
Exposure adjustment
AE lock: Included. EXP. LOCK button operation (Auto mode, TV mode, Av mode only)
AE shift: Included. MENU operation (±2 levels) (Auto mode, TV mode, AV mode only)
Gain setting: Auto/Gain select (–3, ±0, +3, +6, +12, +18, +36dB) Set to Auto in Full Auto and Night mode, Spotlight mode is fixed at 0 dB.
Frame rate setting
50i, 25F recording
Shutter speed
13 levels (1/3, 1/6, 1/12, 1/25, 1/50, 1/120, 1/250, 1/500, 1/1000, 1/2000, 1/4000, 1/8000, 1/16000 sec)

Auxiliary light source
External flash support: EOS flash unit supported
External video light: Battery Video Light VL-10Li/L-10Li II
Image quality adjustment:
Skin setting: The skin detail setting can be made after making the hue adjustment, chroma adjustment, area adjustment, and Y level adjustment.
Sky detail setting: (ON/OFF)
v Custom preset: Gamma adjustment, knee adjustment, black adjustment, master pedestal adjustment, setup level adjustment, sharpness adjustment, H detail adjustment, H/V balance adjustment, coring adjustment, NR (1/2) adjustment, colour matrix adjustment, colour gain adjustment, hue adjustment, RGB gain independent adjustment, matrix adjustment (6-axis adjustment)
White balance:
Auto: Yes
Preset/Set: Outdoor (5600 K), Indoor (3200 K), Set (2 available), Colour temperature setting
System: TTL, 128 segments
Focus:
Mode: AF/ MF/ One-push AFSuper Quick AF( Instant AF)Normal AF
MF operation: Focus ring operation (with distance display function)
Time code:
Countup system: Rec Run, Free Run, Rec Run Preset, Hold
Start value setting: "00:00:00:00", Set, Reset selectable
Still image recording:
Yes
Zebra pattern:
Yes (Level adjustment: selectable from 70%, 75%, 80%, 85%, 90%, 95%, and 100%)
Colour bar:
Yes (2 types built-in)
Clear scan:
Yes
Memory card
Yes
Standby switch:
Yes
Power save :
Yes (after recording is paused for 5 minutes)
Audio:
DV recording: 16-bit 2ch (48 kHz), 12-bit 4ch (32 kHz). 4 channel synchronous recording is not possible
HDV recording: 2ch recording/MPEG1 Audio layer II

Wind screen
Yes (ON/OFF)
LCD monitor:
Size: 2.8-inch (Wide type)
Pixels: 207,000 pixels
Image quality adjustment: Yes (Brightness, Contrast, Colour, Sharpness, Backlight adjustment, Black and White supported)
Movable: Yes. Front and back, and side to side adjustment
VCR:
Playback system:
Frame playback: DV recording: Forward/Reverse, HDV recording: Forward only
Slow playback (±1/3, ±1/10x speed): DV recording: Forward/Reverse, HDV recording: Forward only
2x speed playback: DV recording: Forward/Reverse, HDV recording: Forward/Reverse (Speed: 1x)
1x speed playback: DV/HDV recording: Forward/Reverse
Cue/Review: DV recording: 11.5x speed, HDV recording: 8x speed
Search:
Date search: Yes
Index search: Yes
End search: Yes
Data code display:
Date and time display, Shooting data
Zero set memory:
Yes
System:
Microphone input jack:
Microphone jack (with 5 V DC jack), XLR microphone jack (phantom power supply supported: 2 systems)
Headphone output:
3.5 mm mini jack
HDV/DV terminal:
Input/Output
Video jacks
BNC jack (input/output), Component jack (output only)
AV terminal:
AV mini-terminal (input/output)
Editing jack:
Yes (LANC)
Memory card terminal:
Yes
Analogue signal to DV signal conversion
Yes
Analogue signal > DV signal conversion
Yes
Microphone attenuation:
Yes (Built-in/microphones connected to the front microphone or rear XLR jacks)
Camera:
Microphone level meter:
Yes
World clock:
Yes
Tally lamp:
Yes
Remote control sensor:
Yes
Accessory shoe:
Supporting EOS flash/Battery video light
Custom key:
Supporting EOS flash/Battery video light
DV control:
Yes
Backup power supply:
Lithium coin battery (built-in)
Battery pack power:
BP-930, BP-945, BP-950G, BP-970G lithium-ion battery