Canon XLH1
User Manual

To download the operating manual, right-click the download icon and select "Save As" (or "Save link as", "Save target as", etc).
If you're happy with the manual, a small
donation
would be very much appreciated. Thanks!
Product Overview:
Shooting HD at 1080i with selectable frame rates (50i/25f), the versatile 1/3" 1.67 Megapixel 3CCD XL H1 features a new 20x HD VIDEO lens, HD-SDI output, Gen lock input and Time code input/output.
Features
Professional 1080i HD production with XL versatility.
20x HD VIDEO lens
High resolution 1/3" 1.67 Megapixel 3CCDs
DiG!C DV II Processor
Full CINE and image control
4 channel audio line-in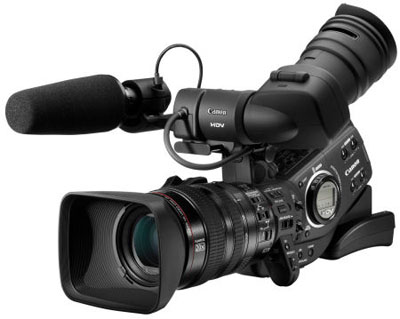 Specifications
Image sensing device
Image size:
1/3-inch CCD
System:
3-CCD horizontal pixel shift
Total pixels:
1.67 megapixels per CCD
Number of effective pixels (per CCD):
HD: Approx. 1.56 megapixels
SD/4:3: Approx. 1.17 megapixels
SD/16:9: Approx. 1.56 megapixels
Lens
Optical zoom magnification:
20x HD VIDEO Lens
Focal length:
5.4 - 108mm
f-number:
f/1.6 - 3.5
Aperture leaves:
6 leaves, iris diaphragm
Zoom speed:
Handle zoom: Fixed speed (16 speed level settings available)
Grip zoom: Variable speed/Fixed speed (16 speed level settings available)
Filter diameter:
72mm
Minimum illumination
Auto mode:
Approx. 6 lux (shutter speed 1/50,Gain 18dB, i selected)

Manual mode:
Approx. 0.4 lux (shutter speed 1/3, GAIN 18 dB, f1.6, i selected)
Image stabilizer
Image stabilization system:
Optical Image Stabilization (when HD 20x zoom XL5.4-108mm L IS II is installed, VAP compensation system is used)
Sensing method:
Angle detection and movement vector detection
Shooting functions
AE mode:
Auto mode, Tv mode, Av mode, Manual mode, Spotlight mode, Night mode, Full Auto mode
Centre weighted average:
Full Auto mode, Auto mode, Night mode, Tv mode, Av mode and Manual mode
Evaluative photometry (128-segments):
Spotlight mode
Exposure adjustment AE lock:
Included. EXP. LOCK button operation (Auto mode, TV mode, AV mode only)
Exposure adjustment AE shift:
Included. AE SHIFT dial mode, AV mode only) operation (±2 levels) (Auto mode, TV mode, AV mode only)
Exposure adjustment Gain setting:
Auto/Gain select (–3, 0, +3, +6, +12, +18 dB) Set to Auto in Full Auto and Night mode, Spotlight mode is fixed at 0 dB.
Frame rate setting:
i - 50i recording, F1/F2 - 25F recording
Shutter speed
Shutter speed setting:
13 levels (1/3, 1/6, 1/12, 1/25, 1/50, 1/120, 1/250, 1/500, 1/1000, 1/2000, 1/4000, 1/8000, 1/16000 sec)
In Auto mode:
1/50 to 1/500 sec 1/25 to 1/500 sec
In Night mode:
1/3 to 1/500 sec 1/3 to 1/500 sec
Aperture
Aperture value:
f/1.6, 2.0, 2.8, 4.0, 5.6, 8.0, 9.5, CLOSE
Image quality adjustment
Skin setting:
The skin detail setting can be made after making the hue adjustment, chroma adjustment, area adjustment, and Y level adjustment.
Custom preset:
Gamma adjustment, knee adjustment, black adjustment, master pedestal adjustment, setup level adjustment, sharpness adjustment, H detail adjustment, H/V balance adjustment, coring adjustment, NR (1/2) adjustment, colour matrix adjustment, colour gain adjustment, hue adjustment, RGB gain independent adjustment, matrix adjustment (6-axis adjustment)
White balance
Auto:
Yes
Preset/Set:
Outdoor (5600 K), Indoor (3200 K), Set (2 available), Colour temperature setting
System:
TTL, 128 segments
Focus
Mode:
AF, MF, One-push AF, Preset focus (HD 20x zoom installed)
MF operation:
Focus ring operation
Time code
Countup system:
Rec Run, free run, Recrun Preset, hold
Start value setting:
"00:00:00:00", Set, Reset selectable
Other Functions
Digital fade:
Yes (White, black fader)
Still image recording:
Yes (1920 x 1080)
Zebra pattern:
Yes (Level adjustment: selectable from 70%, 75%, 80%, 85%, 90%, 95% and 100%)
Colour bars:
Yes
Clear scan:
Yes
Memory card:
Yes
REC review:
Yes
Standby switch:
Yes
Power save:
Yes
Audio
DV recording:
16-bit 2ch (48 kHz), 12-bit 4ch (32 kHz) 4-channel synchronous recording is possible HDV recording: 2ch recording/MPEG1 Audio layer II, 4ch recording/MPEG2 Audio layer II
Wind screen:
Yes (ON/OFF)
LCD monitor
Size:
2.4-inch (Wide type)
Pixels:
215,000 pixels
Image quality adjustment;
Yes (Brightness, Contrast, Colour, Sharpness Adjustment, Black and White supported)
Movable
Yes. Front and back, and side to side adjustment