Canon XLH1a
User Manual

To download the operating manual, right-click the download icon and select "Save As" (or "Save link as", "Save target as", etc).
If you're happy with the manual, a small
donation
would be very much appreciated. Thanks!
Product Overview:
The latest in the XL Series line is the Canon XL H1A HD camcorder. It offers a wider range of image control settings and options, combined with the new Genuine Canon 20x HD Video Zoom Lens III with Professional L Series Fluorite. Backing up that superb lens are three 1/3" Native 16:9 CCDs with 1.67M Pixels (1440x1080) per sensor and Canon's exclusive DIGIC DV II HD Image Processor. The XL H1A is a compelling choice for anyone seeking to produce the best in high definition video at a surprisingly affordable price.
Features
New Genuine Canon 20x HD Video Zoom Lens III with Professional L Series Fluorite
Three 1/3" Native 16:9 CCD with 1.67M Pixels (1440 x 1080)
Canon DIGIC DV II HD Image Processor
Complete Customization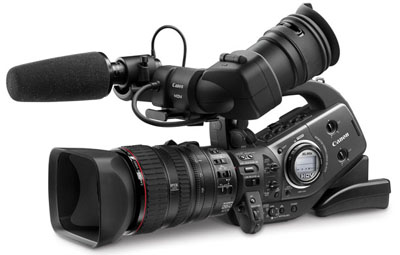 Specifications
Power Supply:
7.4V DC (battery pack)
Video Recording system:
HDV: HDV1080i
DV: DV specifications
Two rotating heads, helical scan azimuth recording, (Consumer VCR SD specifications)
Audio Recording system:
HDV: 2-channel recording MPEG1 Audio Layer II: (bit rate 384 kbps)
DV: 2-channel recording PCM digital recording: 16 bits (48 kHz), 12 bits (32 kHz, 12 bits selectable)
Image Sensor:
3 1/3-inch Native 16:9 CCDs (1440 x1080)
Total Pixels:
Approx. 1.67 Megapixels each x 3
Effective Pixels:
HD approx. 1.56 Megapixels (1440 x 1080)
SD (4:3) approx. 1.17 Megapixels (1080 x 1080)
SD (16:9) approx. 1.56 Megapixels (1440 x 1080)
Tape Format:
Video cassettes bearing the MiniDV mark
Tape Speed:
HDV/DV: SP mode 18.81mm/second
DV: LP mode 12.56mm/second
Maximum Recording Time:
(60-min. cassette)
HDV/DV: SP mode 60 min.
DV:LP; 90 min.
Lens:
Canon 20x HD Video Zoom XL 5.4-108mm L IS lll
Lens Mount:
XL interchangeable lens system
Focusing System:
TTL-video signal sensing system auto focus.
Manual focusing possible (20x zoom XL 5.4-108mm L IS III installed)
Minimum Focusing Distance:
20mm (wide macro), 1m (entire zoom range): (20x zoom XL 5.4-108mm L IS III installed)
Frame Rate:
60i, 24F, 30F
Minimum Illumination:
60i, 7 lux (1/60 shutter speed); 30F, 4 lux (1/30 shutter speed); 24F, 3 lux (1/24 shutter speed)
Image Stabilization:
Optical (VAP)
Filter Diameter:
72mm (20x HD Video Zoom XL 5.4-108mm L IS III Lens)
Viewfinder:
2.4-inch widescreen, TFT color EVF/LCD Monitor, approx. 215,000 pixels
Microphone:
High-performance stereo electric condenser microphone
Recording Media:
SD/SDHC, MMC
DV Terminal:
HDV/DV Special 6-pin connector (IEEE1394 compatible); both input/output
Video Terminal:
(a) Also serves as RCA pin jack (yellow); both input/output
(b) Also serves as BNC connector; output
Output Levels:
-12 dBV (with 47-kohm load, 1 Vrms output level setting and -12dB full scale)
S-video Terminal:
4-pin mini-DIN; both input/output
Audio Terminal:
(a) Also serves as RCA pin jack (white/red, L/R) both input/output (2 systems)
(b) XLR 3-pin jack (2 systems); switchable between MIC/LINE
Microphone Terminal:
3.5mm stereo mini-jack
Operating Temperature Range:
32 - 104° F (0 - 40° C)
Dimensions:
8.9 x 8.7 x 19.5 in. (226 x 220 x 496mm)
Weight - (not including lens and battery pack):
5.6 lbs. (2540 g)
Weight - (fully loaded):
8.8 lbs. (3995 g)