Canon XLH1s
User Manual

To download the operating manual, right-click the download icon and select "Save As" (or "Save link as", "Save target as", etc).
If you're happy with the manual, a small
donation
would be very much appreciated. Thanks!
Product Overview:
The latest in that line is the Canon XL H1S HD camcorder. It has all the features that have made the XL Series a favorite of independent filmmakers, corporate and event shooters, in addition to broadcast and news markets. To complement these features, the Canon XL H1S has added an even higher level of customization options and capabilities which will make it an even more useful creative partner for the demanding professional.
Industry-standard connections and terminals along with a wider range of image control settings and options are combined with the new Genuine Canon 20x HD Video Zoom Lens III with Professional L Series Fluorite. To back up that superb lens are three 1/3" Native 16:9 CCD with 1.67M Pixels (delivering a full 1440 x 1080) and Canon's exclusive DIGIC DV II HD Image Processor. The XL H1S is the compelling choice for anyone seeking to produce the best in high definition video.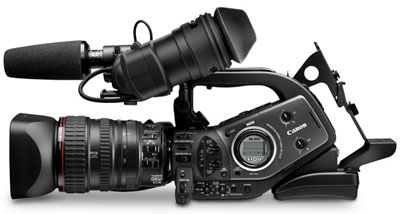 Specifications
SD or HD:
High Definition
Power Supply:
7.4V DC (battery pack)
Video Recording system:
HDV: HDV1080i; DV: DV specifications
Audio Recording system:
HDV: 2-channel recording MPEG1 Audio Layer II: (bit rate 384 kbps);DV: 2-channel recording PCM digital recording: 16 bits (48 kHz), 12 bits (32 kHz, 12 bits selectable)
Image Sensor:
3 1/3-inch Native 16:9 CCDs (1440 x1080)
Total Pixels:
Approx. 1.67 Megapixels each x 3
Effective Pixels:
HD approx. 1.56 Megapixels (1440 x 1080)
SD (4:3) approx. 1.17 Megapixels (1080 x 1080)
SD (16:9) approx. 1.56 Megapixels (1440 x 1080)
Tape Format:
Video cassettes bearing the MiniDV mark
Tape Speed:
HDV/DV: SP mode 18.81mm/second
DV: LP mode 12.56mm/second
Maximum Recording Time:
(60-min. cassette)
HDV/DV: SP mode 60 min.
DV:LP; 90 min.
Lens:
Canon 20x HD Video Zoom XL 5.4-108mm L IS lll
Lens Mount:
XL interchangeable lens system
Focusing System:
TTL-video signal sensing system auto focus.
Manual focusing possible (20x zoom XL 5.4-108mm L IS III installed)
Minimum Focusing Distance:
20mm (wide macro), 1m (entire zoom range): (20x zoom XL 5.4-108mm L IS III installed)
Frame Rate:
60i, 24F, 30F
Minimum Illumination:
60i, 7 lux (1/60 shutter speed); 30F, 4 lux (1/30 shutter speed); 24F, 3 lux (1/24 shutter speed)
Genlock Terminal:
BNC Connector (input only)
Timecode Terminals:
BNC Connector (input and output)
Image Stabilization:
Optical (VAP)
Filter Diameter:
72mm (20x HD Video Zoom XL 5.4-108mm L IS III Lens)
Viewfinder:
2.4-inch widescreen, TFT color EVF/LCD Monitor, approx. 215,000 pixels
Microphone:
High-performance stereo electric condenser microphone
Recording Media:
SD/SDHC, MMC (photos only)
DV Terminal:
HDV/DV Special 6-pin connector (IEEE1394 compatible); both input/output
Video Terminal:
(a) Also serves as RCA pin jack (yellow); both input/output
(b) Also serves as BNC connector; output
Output Levels:
-12 dBV (with 47-kohm load, 1 Vrms output level setting and -12dB full scale)
S-video Terminal:
4-pin mini-DIN; both input/output
Audio Terminal:
(a) Also serves as RCA pin jack (white/red, L/R) both input/output (2 systems)
(b) XLR 3-pin jack (2 systems); switchable between MIC/LINE
Microphone Terminal:
3.5mm stereo mini-jack
Operating Temperature Range:
32 - 104° F (0 - 40° C)
Dimensions:
8.9 x 8.7 x 19.5 in. (226 x 220 x 496mm)
Weight - (not including lens and battery pack):
5.6 lbs. (2540 g)
Weight - (fully loaded):
8.8 lbs. (3995 g)