Canon ZR-60

Features

MiniDV camcorder with 18x optical zoom, 360x digital zoom
Image stabilization for smoother and steadier video
2.5-inch fold-out color LCD screen and color viewfinder
Takes digital still photos and stores them on tape
Connects to PCs and Macs via Firewire (IEEE1394)

Product Description From Canon...

Capturing valuable family memories is simple as pressing a button. Canon technology guarantees exceptional results every time. The 18X zoom range will more than take care of all your picture-taking needs, whether they are wide-angle shots of all the family at the reunion, or close-up sports.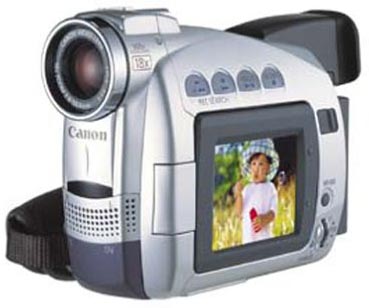 Specifications
| | |
| --- | --- |
| Video format: | MiniDV |
| Power supply (rated): | 7.4 V DC (Battery), 9.5 V DC (DC IN |
| Power consumption: | 2.9 W (using viewfinder), 3.8 W (using LCD screen) |
| Television system: | EIA standard (525 lines, 60 fields) NTSC color signal |
| Video recording system: | 2 rotary heads, helical scanning system DV system (Consumer digital VCR SD system) Digital component recording |
| Audio recording system: | PCM digital sound: 16-bit (48 kHz/2 ch.), 12-bit (32 kHz/4 ch.) |
| Image sensor: | 1/6" CCD (charge coupled device) approx. 680,000 pixels (approx. 340,000 effective pixels-tape) |
| Tape format: | Videocassettes bearing the MiniDV mark |
| Tape speed: | SP: 3/4 ips (18.81 mm/sec.), LP: 1/2 ips (12.56 mm/sec.) |
| Maximum recording time (with an 80-min. cassette): | SP: 80 minutes, LP: 120 minutes |
| Fast forward/rewind time: | 2 minutes 20 secutes (with a 60-minutes cassette) |
| Lens: | f/1.6 - 2.9, 18x power zoom, 2.8 - 50.4 mm |
| Focusing system: | TTL autofocus, manual focusing possible |
| Minimum focusing distance: | 3 ft. 3 3/8 in. (1 m) - 3/8 in. (1 cm) on maximum wide angle |
| Maximum shutter speed: | 1/2,000 sec |
| Minimum illumination: | 1.6 lux using the Night program during tape recording |
| Recommended illumination: | More than 100 lux |
| Filter diameter: | 30.5 mm |
| Viewfinder: | 0.33in., color LCD(approx. 113,000 pixels) |
| LCD screen: | 2.5 in. measured diagonally(approx. 112,000 pixels) |
| Microphone: | Stereo electret condenser microphone |
| DV terminal: | Special 4-pin connector (based on IEEE 1394) |
| Video terminal: | 1 Vp-p/75 ohms unbalanced |
| S-video terminal: | 1 Vp-p (Y signal), 0.286 Vp-p (C signal) |
| Audio terminal: | Input level: -10 dBV/40 kohm, unbalanced, Output level: -10 dBV, less than 3 kohms, unbalanced |
| Operating temperature range: | 32 - 104 degrees F (0 - 40 degrees C) |
| Length: | 2.3 inches |
| Height: | 4.1 inches |
| Depth: | 5.8 inches |
| Weight: | 1 lb. 3 oz. |
| Warranty labor: | 90 days |
| Warranty parts: | 1 year |