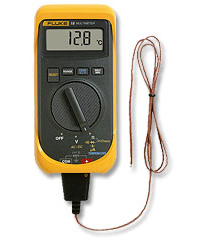 Fluke 16 Digital Multimeter
Product description from Fluke:
Measures temperature and microampères.
The Fluke 16 measures temperature quickly and accurately. Standard equipment includes an 80BK integrated DMM temperature probe. A microamp function is included for flame sensor measurements down to 0.1 microampères. Use the Fluke to test motor start and run capacitors up to 10,000 microfarads. Rely on the Fluke 16 to make your everyday measurements - up to 600 volts ac or dc, 40 megohms, diode test and exceptionally fast continuity.
Features:
Accurate temperature measurement from -40 to 400°C
Confidently test flame sensor circuits with microamp measurement down to 0.1 microamps
Capacitance up to 10,000 microfarads
0.9% basic DC accuracy
4000 count digital display
Min/Max recording with relative time stamp records the highest and lowest voltage readings during a 100-hour period
Automatic or manual ranging
High resistance ranges to 40 megohms
Millivolt range for compatibility with other accessories
V-Check™ mode is designed for safety
When measuring ohms, continuity, or diode test modes, the meter automatically switches to measuring ac or dc volts if more than 4.5V is present
Continuity Capture™ locates intermittent opens as brief as 250 microseconds and identifies them in a symbolic display as short-to-open or open-to-short
Sleep mode preserves battery life
Specifications:
Voltage DC Maximum: 600 V
Accuracy: (0.9% + 1)
Maximum Resolution: 1 mV

Voltage AC Maximum: 600 V
Accuracy: (1.9% + 2)
Maximum Resolution: 1 mV
Bandwith: 50 to 400 Hz

Current DC Maximum: 200 µA
Accuracy: 1% + 2
Maximum Resolution: 0.1 µA

Current AC Maximum: 200 µA
Accuracy: 2% + 3
Maximum Resolution: 0.1 µA
Bandwith: 50 to 400 Hz

Resistance Maximum: 40 MO
Accuracy: 0.9% + 1
Maximum Resolution: 0.1 O

Capacitance Maximum: 10.000 µF
Accuracy: 1.9% + 2
Maximum Resolution: 0.001 µF

Diode Maximum: 2.000 V
Accuracy: (1.9% + 2)
Resolution: 1 mV

Temperature Range: -10 to 400 °C
Accuracy: (1% + 0.8 °C) (typical )
Maximum Resolution: 0.1 °C

Continuity Beeper on <25 Ohm
Beeper off >250 Ohm
Environmental Specifications
Operating temperature -10 °C to 50 °C

Storage temperature -30 °C to 60 °C indefinitely
(to -40 °C for 100 hrs)

Humidity (Without Condensation) 0% to 90% (-10 °C to 35 °C)
0% to 70% (35 °C to 50 °C)

Temperature Coefficient (0.1 x specified accuracy)/°C (<18 °C or > 28 °C)
Safety Specifications
Overvoltage category EN 61010-1 to 600V CAT III
Mechanical & General Specifications
Size 346 x 71 x 142 mm

Weight 286 g

Warranty 3 years

Battery life Alkaline: ~ 650 hours typical