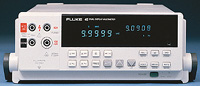 Fluke 45 Dual Display Multimeter
Product description from Fluke:
The Fluke 45 is a feature-rich 5-digit, 100 000 count meter that truly fits all applications and virtually any measurement need _ on the workbench or in the field. Two multifunction displays and 16 different measurement capabilities allow wide ranging versatility at an affordable price. The Fluke 45 delivers high performance and flexibility for manufacturing test, depot and field service, as well as R&D applications.
Features:
Multifunction Vacuum Fluorescent Dual Display
True-RMS Voltage and Current Measurement, Including AC + DC
0.05% DC Current Accuracy for 4-20 mA Current Loop Service
Standard RS-232 Interface
Optional IEEE-488.2 Interface
Frequency Measurement to 1 MHz
dB Measurements
MIN/MAX Mode
RELATIVE Mode
COMPARE (Hi/Lo/Pass) for Quick In-Tolerance Tests
Closed Case Calibration
Optional: Rack-Mount Kit
Specifications:
General Specifications
VDC Range: 0V-1000V
Resolution: 1 µV-0.01V
Best Accuracy: ± 0.025% + 2*

VAC (True-rms, AC Coupled) Freq. 20 Hz-100 khz Range: 0V-750V
Resolution: 1 µV-0.01V
Best Accuracy: ± 0.2% + 10*

dB Readout (600 O Ref.) (Ref. Z 2O-8000O) Range: -34 ± 60
Resolution: 0.01 dB-0.1 dB
Best Accuracy: ± 0.08 dBm *

ADC Range: 0 mA-10A
Resolution: 0.1 µA-10 mA
Best Accuracy: ± 0.05% + 2 *

AAC (True-rms, AC Coupled) Freq. 20 Hz-20 khz Range: 15 µA-10A
Resolution: 0.1 µA-10 mA
Best Accuracy: ± 0.5% + 10 *

Resistance Range: 0O-100 MO
Resolution: 0.001O-1mO
Best Accuracy: ± 0.05% + 2 *

Frequency Range: 5 Hz - 1 MHz
Resolution: .01 Hz-1 kHz
Best Accuracy: ± 0.05% + 1 *

Size 216 mm W x 93 mm H x 286 mm D (8.5" W x 3.67" H x 11.27" D)

Weight Net 2.4 kg (5.2 lb); with battery 3.2 kg (7 lb)

One Year Warranty One year calibration interval

*Medium reading rate