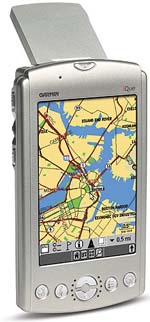 iQue 3600 GPS
Product description from Garmin:
The iQue 3600® is the first PDA to include integrated GPS technology. With the power of Palm OS® 5.2.1 and the dependability of Garmin® GPS technology, this "Super PDA" redefines multi-tasking. Our integrated software not only allows you to look up appointments or contacts, but also locates and routes you to them with voice-guidance commands!
Features:
Powerful 200 MHz processor powering Palm OS 5.2.1
Integrated Que technology, with Garmin GPS and mapping software
Flip-up integrated GPS patch antenna can be positioned for optimal reception
Speaker for voice-guidance commands, MP3 player, and message playback
Voice recorder for making memos, quick notes, and messages on the fly
Rechargeable internal Lithium-ion battery (charges in cradle or while connected to adapter)
Built-in 32 MB of memory for downloading map data and other Palm OS-compatible software
ARM 9 processor enhances screen redraw, graphics, and audio
SD expansion slot for flexible memory storage and additional software
Unit size: 2.8"W x 5"H x .8"D (72 x 128 x 20.3 mm)
Display: 2.16" x 3.24" (54 x 81 mm), 320 x 480-pixel, high-resolution, color with virtual Graffiti™ area
Applications: Astraware Game Pack*, powerOne Personal Calculator, Documents to Go by DataViz*, DataViz Mail*, Palm Reader, StarCaddy*, Vindigo*, and WorldMate*
* Denotes limited or trial form.
Note: System requirements include a Windows-compatible computer.