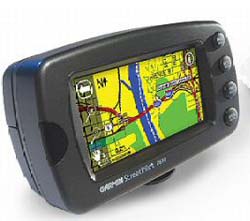 Street Pilot 2610
Product description from Garmin:
Garmin has raised the bar for portable automotive navigation with the StreetPilot 2610. This capable navigator offers everything you want in an automotive navigation system — automatic route capability, voice prompts and a large color display — for much less than built-in systems.
With the StreetPilot 2610's touch screen and remote control, entering and retrieving information has never been easier. Perfect for both business and vacation, it's turn-by-turn routing and voice prompts get you where you're going accurately and safely. It's fast processor means quick route calculations and map redraws. The 2610 also features a large, easy-to-read screen, built-in maps, and everything needed to download additional map detail and look up points of interest and addresses in seconds. Select maps and transfer data directly to the unit through a USB connection and onto a standard CompactFlash® memory card.
Features:
Powerful microprocessor for fast redraw and route calculation
Built-in patch antenna with an MCX-type connector for optional external GPS antenna
CompactFlash data card (type I or II) slot for map storage
Audio and visual navigation instructions and warnings
3.3" W x 1.7" H, 305 x 160 pixels; bright, automotive-grade 8-bit, 256 color LCD display with automatic dimming backlight and touch screen
5.6" W x 3.2" H x 2.0" D unit dimensions
Alphanumeric remote control
Turn-by-turn automatic route generation
Indefinite data storage (no memory battery required)
Integrated dash mounting system provides easy adjustment and quick release