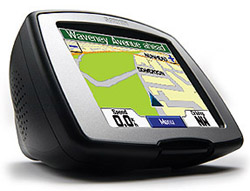 Street Pilot C330
Product description from Garmin:
Our StreetPilot "c-series" GPS navigators feature a simple touchscreen interface, with automatic route calculation to any destination and turn-by-turn voice-prompted directions along the way. Selecting a destination is straightforward and requires only a limited amount of input from the user. Plus, the StreetPilot c320 and StreetPilot c330 allow you to choose between a three-dimensional navigation view or the more traditional "bird's eye" overhead view.
For the ultimate out-of-the-box convenience, the StreetPilot c330 comes pre-loaded with highly detailed MapSource City Select street data. The database features an industry-leading five million-plus points of interest—including hotels, restaurants, gas stations, ATMs, and attractions. (The c320 comes with a 128 MB SD card and a MapSource City Select CD-ROM for data transfer from a PC via a USB connection.)
The centerpiece of both units is a bright, 3.5-inch diagonal, 16-bit color display that makes navigation a snap. The StreetPilot c330 features dual integrated speakers for high-quality voice prompts, and an internal lithium-ion battery for out-of-car route planning.
The new StreetPilot c-series boasts distinctive and sleek styling—the only buttons are a rotary volume knob and an on/off switch. The device is secured by a suction-mount cradle that fastens to the windshield for easy portability between vehicles. Users can customize their unit's appearance with an array of colored faceplates (sold separately).
Features:
WAAS-enabled 12 parallel channel GPS
Built-in patch antenna; MCX-type connector for optional external GPS antenna connection
Pre-programmed internal memory
Audible and visual navigation instructions and warnings
Display: 2.8" W x 2.1" H (3.5" diag.), 320 x 240 pixels; QVGA transflective TFT with 16-bit color; 64K colors; bright white LED backlight and touch screen
Unit dimensions: 4.4" W x 3.2" H x 2.8" D
Weight: 9.45 ounces
Built-in lithium ion battery for trip planning
Integrated suction cup mounting system provides easy adjustment and quick release
USB interface