Hitachi DZ-MV230A DVD-R/DVD-RAM
User Manual

To download the operating manual, right-click the download icon and select "Save As" (or "Save link as", "Save target as", etc).
If you're happy with the manual, a small
donation
would be very much appreciated. Thanks!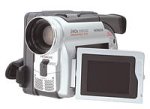 Product Description From Hitachi:
Capture a combination of digital videos and digital stills with this compact, lightweight DVD-R/DVD-RAM camcorder. The included DVD-R disc captures high-quality video in Ultra Fine, Fine, or Standard recording modes. Available DVD-RAM discs can store hundreds of digital stills as well as full-motion video! Transfer video clips and digital pictures to your computer using a USB cable and share them over the Internet with family and friends.
Specifications
| | |
| --- | --- |
| Video format: | MiniDV (Digital) |
| Digital Still Picture Capable: | Yes |
| Built-in Light: | No |
| Image Stabilization: | Yes |
| LCD Screen Size: | 2.5 |
| Color Viewfinder: | No |
| Optical Zoom Length: | 12x |
| Digital Zoom Length: | 240x |
| Variable Speed Zoom: | No |
| Instant Zoom: | No |
| Max. Digital Still Picture Resolution: | 1280x960 |
| Digital Still Picture Storage: | DVD RAM |
| Output to Personal Computer: | Yes |
| Remote Control: | Yes |
| Number of Digital Effects: | 8 |
| Number Auto Exposure Modes : | 6 |
| Built-in Date/Time Marker: | Yes |
| Manufacturer Lux Rating: | 8 |
| Zero Lux Night Filming : | No |
| SP/SLP Heads: | No |
| Flying Erase Head: | No |
| Editing Features: | Yes |
| Timer Recording: | No |
| Battery Type: | Lithium Ion |
| Manufacturer's Battery Life Rating: | 2 Hours |
| Included Accessories : | 2 Hour Battery, AC Adaptor/Charger, Remote Control, Power Cord, AAA Batteries, Shoulder Strap, Lens Cap, 8 CM (3'') DVD-R Blank Disc in Caddy, A/V Cables |
| LCD Screen Size: | 2.5 |
| Color Viewfinder: | No |
| Built-in Light: | No |
| Image Stabilization: | Yes |
| Optical Zoom Length: | 12x |
| Digital Zoom Length: | 240x |
| Variable Speed Zoom: | No |
| Instant Zoom: | No |
| Remote Control: | Yes |
| Battery Type: | Lithium Ion |
| Manufacturer's Battery Life Rating: | 2 Hours |
| Manufacturer Lux Rating: | 8 |
| Zero Lux Night Filming: | No |
| Number Auto Exposure Modes | 6 |
| Number of Digital Effects | 8 |
| Built-in Date/Time Marker: | Yes |
| Digital Still Picture Capable: | Yes |
| Timer Recording: | No |
| SP/SLP Heads: | No |
| Flying Erase Head: | No |
| Editing Features: | Yes |
| Output to Personal Computer: | Yes |
| Included Accessories: | 2 Hour Battery, AC Adaptor/Charger, Remote Control, Power Cord, AAA Batteries, Shoulder Strap, Lens Cap, 8 CM (3'') DVD-R Blank Disc in Caddy, A/V Cables |
| Digital Still Picture Storage: | DVD RAM |
| Max. Digital Still Picture Resolution: | 1280x960 |