Hitachi VM-E545LAVP Hi8 Camcorder
Features
8mm camcorder
16x optical and 32x digital zoom
2.5-inch LCD display
Includes special effects
Carrying bag, tripod, remote control, and 8mm tape included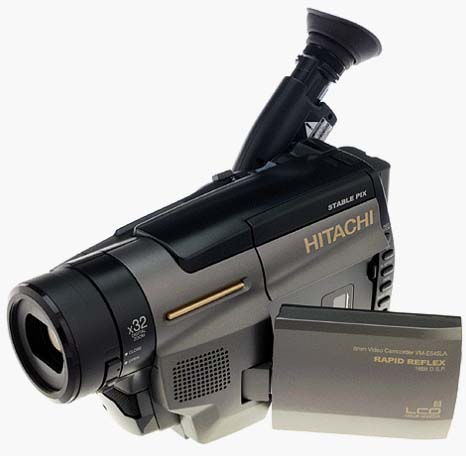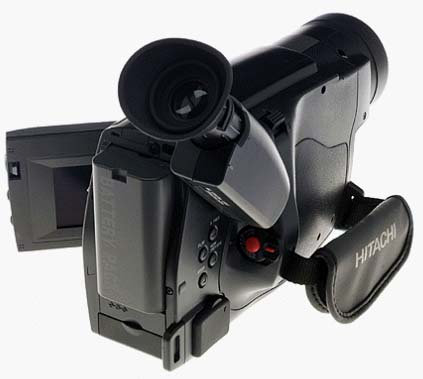 Product Description from Amazon.com:
Weighing in at around 2 pounds, Hitachi's VME545LAVP 8mm camcorder offers a wide range of advanced features in a lightweight package. It has a 0.55-inch black-and-white eyepiece viewfinder and a 2.5-inch fold-out/rotatable LCD screen. Zoom capabilities range from 16x optical/32x digital to a special-effect zoom equivalent of 120x (although the special-effect zoom compromises picture quality).
With 0.8 LUX illumination, you can film in light lower than that from a single candle. Many exposure controls come preset, such as auto backlight, auto white balance, and auto shutter, but you do have the option of focusing automatically or manually. Along with the exposure modes, the Hitachi VME545LAVP features a package of built-in special effects including mosaic, mirror, negative-positive, and panoramic shots. You can fade in and out with one of six programmed fades. This model also includes flying erase heads to keep transitions between shots smooth.
The Hitachi VME545LAVP is designed with a built-in lens cap as well as automatic tile and date options. This camcorder kit comes with a Perfect Power battery system, an 11-key remote control, a tripod, a carrying case, and an 8mm tape.
Specifications
| | |
| --- | --- |
| Video format: | Hi8/8mm |
| Imaging device: | 0.25-inch Super Sensitive Sensor, 270,000 pixels |
| Eyepiece viewfinder: | 0.55-inch black and white |
| LCD screen: | 2.5 inches, active |
| Optical zoom power: | 16x |
| Digital zoom power: | 32x |
| Filter diameter: | 46 millimeters |
| Shutter speeds: | 1/60 to 1/4,000 second |
| Image stabilization: | Yes |
| Manual options: | Manual focus capabilities |
| Remote control: | 11-key remote included |
| Fade options: | 6-way digital fader |
| Exposure presets: | Automatic iris, automatic white balance, automatic backlight |
| Special effects: | Cool Shots package includes mosaic, mirror, 120x digital zoom, negative-positive image, and 16-by-9 panoramic view |
| Special features: | 16-bit DSB digital signal processor, rapid-reflex exposure system, instant zoom (1.5x), multisystem playback, built-in lens cap, 0.8 lux illumination, easy-edit remote capability, automatic date, flying erase heads |
| Included: | Remote control, Perfect Power battery system with lithium no-memory battery |