JVC GRDV500 MiniDV Camcorder
User Manual

To download the operating manual, right-click the download icon and select "Save As" (or "Save link as", "Save target as", etc).
If you're happy with the manual, a small
donation
would be very much appreciated. Thanks!
Features
MiniDV camcorder with 10x optical zoom, 300x digital zoom, image stabilization
2.5-inch fold-out color LCD screen and color viewfinder
Comes with Presto! ImageFolio video editing software
Takes digital stills and stores them on the included MMC card
Connects to PCs and Macs via Firewire (IEEE1394)
Product Description From Amazon.com:
The GR-DV500 offers a 1.33-megapixel CCD with 540 lines of horizontal resolution. Combined with JVC's super-hi-band processor, you'll be assured of capturing crisp, clear video. Equipped with a 10x optical zoom, the GR-DV500 also features a 300x digital zoom that allows you to zoom in for incredible close-ups.
The GR-DV500 also features PCM digital stereo sound in either 12-bit or 16-bit options. The 16-bit mode offers one set of stereo tracks and achieves the same quality as a CD, while the 12-bit mode creates two sets of stereo tracks. Audio dub is possible when recorded in 12-bit mode.
The still mode is capable of capturing crystal-clear still images of up to 1,600 x 1,200 pixels. The images are stored onto the included 8 MB MMC memory card; the GR-DV500 is also compatible with Secure Digital memory cards. You can also record still images onto the video cassette with a "shutter" sound effect in full frame or pin-up mode.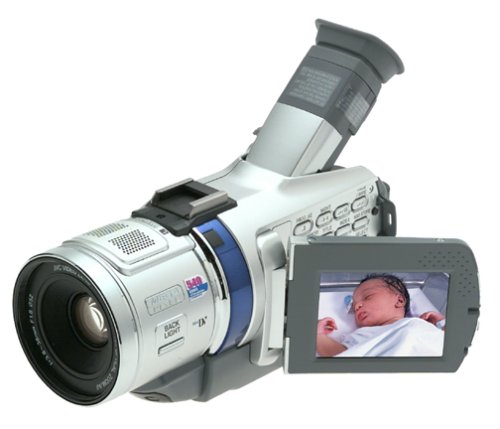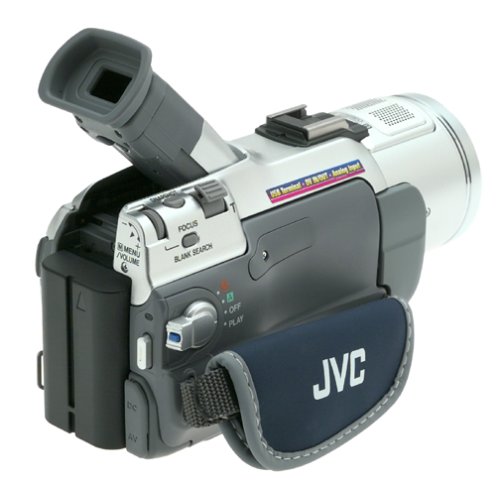 Specifications
| | |
| --- | --- |
| Video format: | MiniDV |
| Megapixels: | 1.33 Megapixel |
| CCD: | 1/4 inch |
| HG Digital Stills: | (1600x1200/1280x960/1024x768/ 640x480) |
| Web Camera Function and MPEG-4 Email Video Clips: | Yes |
| Digital Hyper Zoom: | 300X, with Spline Interpolation |
| LCD Monitor: | 2.5" 123k-pixel Amorphous-Silicon LCD Color Monitor |
| Viewfinder: | Color |
| Remote Control: | Included |
| Lens: | F1.8 Bright lens |
| Type: | Digital CyberCam Video Camera |
| Info-Shoe: | Various accessories (zoom mic, flash, video light) |
| MultiMedia Card: | 8MB MMC included)/ SD Memory Card compatibility |
| Optical Hyper Zoom: | 10X |
| Digital Image Stabilizer: | Yes |
| 16x9 Squeeze Mode: | Yes |
| PCM Digital Stereo Audio: | Yes |
| Snap Shot Modes: | Full screen, Frame, Pin-up, Negative, Multi-Picture, 4-Frame / 9-Frame, Digital Still Output |
| Iris Lock: | Yes |
| Wide Mode: | Yes |
| Manual focus, Exposure, and White Balance modes: | Yes |
| Black Fader: | Yes |
| Digital Wipes and Fades: | Yes |
| Variable-speed Shutter: | 1/500,1/250, 1/100, 1/60 seconds |
| Image Recording: | High Density Image Recording, Mini DV NTSC (SD specifications) |
| Battery: | BN-V408U 800 mAh Lithium-ion, High Capacity, rechargeable battery pack |
| AC Adapter: | Built-in AC Power Adapter/battery charger |
| i.Link Digital Input/Output (IEEE 1394 compliant) DV in/out: | Yes |
| S-Video Output: | Yes |
| USB Interface: | Yes |
| CDROM Software: | Digital PhotoNavigator 1.0, Digital PhotoNavigator for Mac, Imagemixer VCD 1.1, Imagemixer/ USB streaming driver, Title converter, USB Mass Storage class Driver, USB Video Streaming Driver, G.726 Decoder, Adobe Acrobat Reader. These programs do not operate with all operating systems. |
| In the box: | Shoulder strap, Editing Cable, USB Compatible Cable, 8MB MMC |
| Analog Inputs: | Yes |
| Audio Dubbing: | Yes |
| Power-Linked Operation: | Yes |
| Mic Input: | Yes |
| Headphone Output: | Yes |
| Playback Digital Zoom: | Yes |
| DV Navigation: | Yes |
| Width: | 2.88 inches |
| Height: | 3.5 inches |
| Depth: | 6.58 inches |
| Weight: | 1 pounds 4 ounces |