JVC GR-DVL505U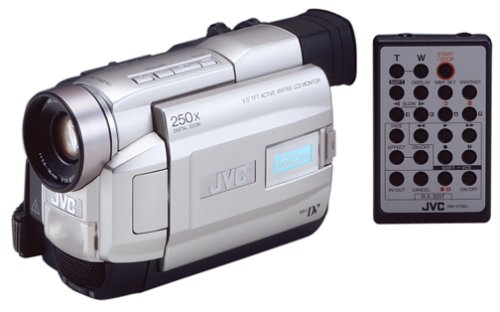 Features:
MiniDV digital format
3-inch swivel color LCD monitor
Also functions as digital still camera; 2 MB storage card included
10x optical, 250x digital zoom
Includes special effects and scene transitions
This JVC digital cybercam offers a high level of picture and sound quality. A 680,000-pixel CCD delivers outstanding resolution, and with the swiveling color LCD monitor, the camcorder can be operated from any angle. For important close-up shots, the 250x digital zoom provides fast zooming at variable speeds by finger pressure.
This camcorder offers a large selection of digital effects and scene transitions. Exercise your creativity with effects like classic film, strobe, slow shutter, black and white, and many more. A random assemble editing feature provides an eight-scene memory for favorite scenes as well as the ability to add special effects. The JVC GR-DVL505U digital cybercam also includes playback zoom for enhanced viewing.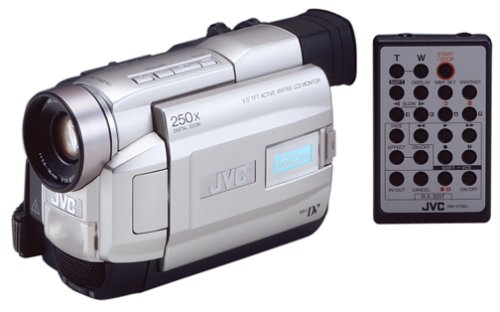 Specifications
| | |
| --- | --- |
| Video format: | MiniDV |
| Progressive scan CCD: | No |
| Flying erase heads: | No |
| Audio: | PCM digital stereo |
| Maximum CCD resolution: | 680,000 |
| CCD size: | 0.25 inch |
| Eyepiece viewfinder: | Yes |
| LCD screen size: | 3.0 inches |
| LCD swivel: | Yes |
| Aperture: | f/1.8 |
| Optical zoom: | 10x |
| Digital zoom: | 250x |
| Auto light: | Yes |
| Black and white: | Yes |
| Sepia: | No |
| Solarized: | No |
| Image stabilization: | Yes |
| Infrared capability: | No |
| Remote included: | Yes |
| Digital camera capability: | Yes |
| Included still memory: | 2 MB |
| Preset titles: | No |
| Custom titling: | No |
| Fade options: | White fader, black-and-white fader, slide wipe, scroll wide, random, mosaic fader, door wipe, dissolve |
| Special effects: | Classic film, strobe, slow shutter, black and white, cinema scene transitions |
| Motion sensor: | No |
| Audio sensor: | No |
| Other special features: | Random assemble editing, playback zoom |
| IEEE 1394 output: | Yes |
| Connections: | RS-232,IEEE 1394 |
| S-Video output: | Yes |
| Battery type: | Lithium-ion |
| Included in box: | AC adapter, lithium-ion rechargeable battery pack, remote control, CD-ROM software, docking station, audio-video cables, editing cables, cleaning cloth, DC adapter, handgrip strap |
| Width: | 3.19 inches |
| Height: | 3.81 inches |
| Depth: | 6.31 inches |
| Weight: | 1.3 pounds |