JVC GR-DVL725U

Features:
MiniDV camcorder
10x optical, 700x digital, zoom with digital image stabilization
2.5-inch color LCD; black and white EVF
Records digital stills up to a resolution of 1280 x 960 onto included 8 MB MultiMediaCard; also compatible with SD cards
Integrated autolight
Product Description From Amazon.com:
The 10x optical zoom in the GR-DVL725U is a good compromise of image quality and zoom power, and should be more than adequate for just about any situation.
The DVL725U records 1,280 x 960 stills, which is a 1.2-megapixel resolution.
The DVL725U comes with the standard IEEE 1394 port for lossless transfer of digital video to a computer, or another IEEE 1394-equipped device, and a USB port for still image transfer. Additionally, the 725 has an S-video output for duping your footage onto tape.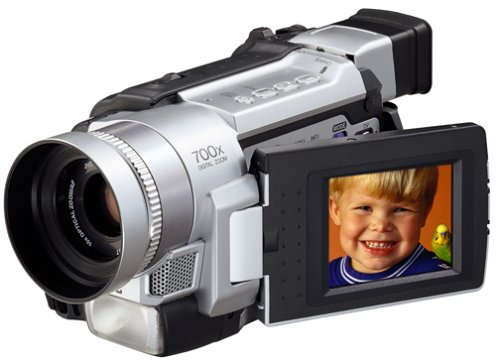 Specifications
| | |
| --- | --- |
| Video format: | MiniDV |
| Megapixels: | 1.02 Megapixel, 1/3.8" CCD |
| Still Pictures: | HG Digital Stills (1280x960/1024x768/ 640x480) |
| Zoom: | 10X Optical, 700X Digital |
| LCD Monitor: | 110,000-pixel 2.5 inches High Resolution, 270-degree rotating LCD color monitor |
| Remote Control: | Multi-Brand Remote Control |
| Lens: | F1.8 Bright lens |
| Video Camera: | Digital CyberCam Video Camera |
| Viewfinder: | Black/White Viewfinder |
| Auto Light: | Integrated auto light |
| Memory Card: | MultiMedia Card/ SD Memory Card compatibility |
| Stabilizer: | Digital Image Stabilizer |
| Squeeze Mode: | 16 x 9 |
| Audio: | PCM Digital Stereo Audio |
| Snap Shot Modes: | Full screen, Frame, Pin-up, Negative, Multi-Picture, 4-Frame / 9-Frame, Digital Still Output |
| Iris Lock: | Yes |
| Wide Mode: | Yes |
| Modes: | Manual focus, Exposure, and White Balance modes |
| Black Fader: | Yes |
| Digital Wipes and Fades: | Yes |
| Variable-speed Shutter: | 1/500, 1/250, 1/100, 1/60 second |
| Recorder: | High Density Image Recording, Mini DV NTSC (SD specifications) |
| Battery: | BN-V408U 800 mAh Lithium-ion, High Capacity, rechargeable battery pack |
| Battery charger: | Built-in AC Power Adapter/battery charger |
| Input/Output: | i.Link Digital Input/Output (IEEE 1394 compliant) DV in/out |
| USB: | USB High Speed Interface and software for Still Image Transfer and manipulation(PC/AT compatible) |
| S-Video Output: | Yes |
| CDROM Software: | USB Driver, Digital Photo Navigator, Presto! Mr. Photo, Presto! PhotoAlbum, Presto! ImageFolio |
| Supplied Accessories: | Shoulder strap, Editing Cable, USB Compatible Cable, 8 MB MultiMedia Card |
| Audio Dubbing: | Yes |
| Editing: | Random Assemble Editing with digital effect/scene transition selections |
| Weight: | 1.23 pounds (560g) |
| Dimensions: | 3.5 inches (89mm), 2.88 inches (73mm), 6.58 inches (167mm) |
| Power: | 4.3 Watts using viewfinder |