JVC GR-DVM70U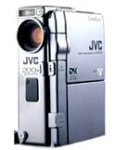 Features:
MiniDV digital format
2.5-inch swivel color LCD
Multifunction remote control
Functions as a digital still camera; 4 MB memory card included
10x optical, 200x digital zoom
Product Description:
The GR-DVM70U features a digital still picture output that allows this camcorder to act as a digital still camera. The still images are stored on a removable 4 MB multimedia card and can be downloaded onto your PC via the provided serial cable. A short editing process makes your images Web-ready or e- mail compliant with the software included.
This cybercam includes effects such as classic film, strobe, slow shutter, black and white, and many more. A time-lapse capability allows you to record at preset intervals to catch slow motion action such as plant growth or cloud movement. You can also record in a special animation mode that creates the illusion of movement for an otherwise stationary scene when you shoot a series of slightly different poses. Random assemble editing provides an eight-scene memory for favorite scenes as well as the ability to add special effects.
Specifications
| | |
| --- | --- |
| Video format: | MiniDV |
| Audio: | PCM |
| Progressive scan CCD: | No |
| Flying erase heads: | No |
| Maximum CCD resolution: | 680,000 |
| CCD size: | 0.25 inch |
| Eyepiece viewfinder: | Yes |
| LCD screen size: | 2.5 inches |
| LCD swivel: | Yes |
| Aperture: | f/1.8 |
| Optical zoom: | 10x |
| Digital zoom: | 200x |
| Programmed exposure modes: | 3 modes |
| Auto light: | No |
| Hot shoe for external light: | No |
| Black and white: | Yes |
| Sepia: | No |
| Solarized: | No |
| Image stabilization: | Yes |
| Infrared capability: | Yes |
| Remote included: | Yes |
| Digital camera capability: | Yes |
| Included still memory: | 4 MB |
| Preset titles: | No |
| Custom titling: | No |
| Programmed recording: | Yes |
| Fade options: | White fader, slide wipe, scroll wide, random, mosaic fader, door wipe, dissolve |
| Special effects: | Classic film, strobe, slow shutter, black and white, cinema scene transitions |
| Motion sensor: | No |
| Audio sensor: | No |
| Other special features: | HG snapshot mode, animation mode, J terminal, Pro-Slow playback, infrared digital still scene transfer, audio dubbing, random assemble editing/scene transition selections |
| IEEE 1394 output: | Yes |
| Connections: | PC terminal, RS-232 |
| S-Video output: | Yes |
| Battery type: | Lithium-ion |
| Included in box: | AC adapter, lithium-ion rechargeable battery pack, remote control, CD-ROM software, docking station, audio-video cables, editing cables, cleaning cloth, DC adapter, handgrip strap, 4 MB MultiMediaCard |
| Width: | 1.93 inches |
| Height: | 4.68 inches |
| Depth: | 3.5 inches |
| Weight (pounds): | 1.2 pounds |