JVC GR-SXM930U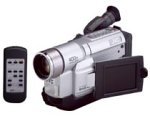 Features:
SVHS-C camcorder, compatible with VHS
16x optical, 400x digital zoom with digital image stabilization
3-inch color LCD monitor and color EVF
Snapshot Mode records still pictures onto 2 MB internal flash memory
Includes battery pack, Compact VHS playpak, AC adapter/charger, shoulder strap, remote control
Product Description From Amazon.com:
The JVC GR-SXM930U offers the convenience of VHS-C in a sleek, lightweight design. It is equipped with a 3-inch high-resolution color viewfinder for more realistic visuals while shooting, and has a built-in light that improves the picture in low-light shooting conditions. The digital picture stabilizer gets rid of annoying picture shakes. It also offers a 16x optical and 400x digital zoom. This is ideal for catching action at sporting events or just at home in your backyard. The zoom is a variable-speed zoom triggered by finger pressure with numeric zoom ratio readout in the viewfinder/monitor.
The camcorder is capable of three recording modes. Super VHS recording offers 60 percent better resolution than regular VHS. SVHS ET allows you to record with that same high-resolution using any VHS-C tape. For full compatibility with any VHS video player you can record in standard VHS mode. VHS-C format tapes are simply smaller-sized VHS tapes, and you can play your VHS-C tapes in any VCR with the included cassette adapter.
The GR-SXM930U is also an integrated digital still camera that takes snapshots and stores them onto the 2 MB of internal flash memory. You have different snapshot modes like full screen, pin-up, or multipicture. You can take up to 60 photos at the standard resolution with VGA size 640 x 480 pixels. With the included software and cable you can import your photos into a computer for editing or e-mailing.
For editing features, the GR-SXM930U offers digital wipes and fades, audio dubbing, and insert editing as well as a black fader and a quick review and retake function. There are 88 different combinations you can play with for digital special effects, wipes, and fades. The title generator features eight preset messages in English, Spanish, French, and Portuguese. The accessories include a shoulder strap, VHS-C cassette playback adapter, battery recharger, remote control, and photo-editing software.
Specifications
| | |
| --- | --- |
| Video format: | SVHS-C |
| Optical zoom: | 16x |
| Digital zoom: | 400x |
| Computer memory size: | 2 MB |
| Display size: | 3 inches |
| Connectivity: | Serial interface, S-Video, AV |
| Special features: | 16:9 Widescreen |
| Item weight: | 1.58 pounds |