JVC GR-HD1 High-Definition DV camcorder
Features
High-Definition DV camcorder and still camera with1.18-megapixel progressive scan CCD
10x optical zoom lens (digital zoom to 200x) with Picture Stabilizer
3.5-inch rotating color polycrystalline silicon LCD and color LCD viewfinder
Info-Shoe for a variety of optional attachments such as an Auto Light, Video Flash, or Stereo Zoom Mic
BN-V428U 2800 mAh, high-capacity, rechargeable battery pack
Product Description From JVC:
The GR-HD1 offers true Hi-Def 720/30 progressive scan recording in MPEG2-TS (Transport Stream) format. Its large 16:9 image, packed with three times the visual information of DV, will create a new level of realism and impact when viewed on large-screen monitors or projection TVs. To accommodate a variety of video archiving and distribution needs, the GR-HD1 also supports SD 480/60p and regular DV 480/60i with separate encoding circuitry to process the image before recording on tape.
Multi-Format HD/SD/DV Recording and Viewing And when it's time to see the recordings you've made, the up-/down-converter and abundant connectors allow viewing access on everything from standard NTSC TVs to leading-edge 1080i HDTV plasma displays and professional-grade monitors. Naturally, ordinary DV 480/60i will be viewable on regular NTSC TVs.
F1.8 - F1.9 Optical Zoom Lens To make Hi-Def recording possible, JVC puts high quality up front, at the lens. With almost no variance in brightness, from F1.8 at full wide and F1.9 at full telephoto, it is able to offer the fundamental image-gathering performance a Hi-Def system requires. High-precision multi-coated all glass optics ensure low-distortion, ghost-free images with high peripheral resolution and brightness, as well as high edge-to-edge color purity across the entire zoom range.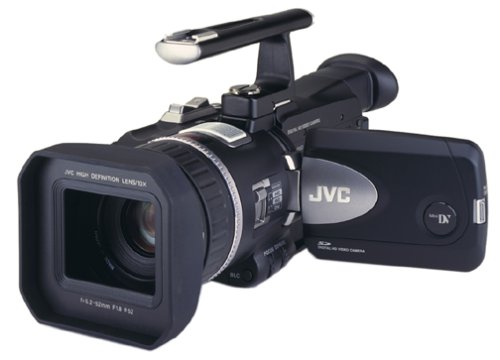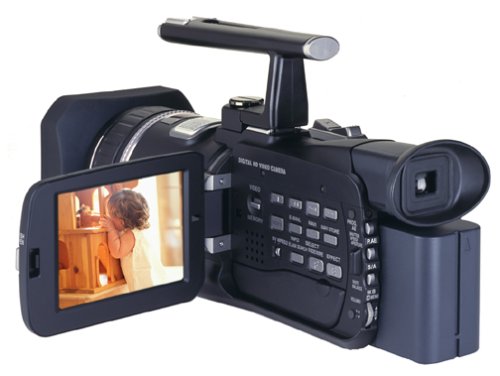 Specifications
| | |
| --- | --- |
| Video format: | MiniDV |
| Audio: | 16-bit 2 channels, 12-bit 4 channels in DV mode |
| Maximum CCD resolution: | 1.18 megapixels |
| CCD size: | 1/3 inch progressive CCD |
| Eyepiece viewfinder: | 0.44-inch color LCD viewfinder (113,000-pixel polycrystalline silicon LCD) |
| LCD screen size: | 3.5" color LCD monitor (200,000-pixel polycrystalline silicon LCD) |
| LCD swivel: | Yes |
| Optical zoom: | 10x |
| Digital zoom: | 200x |
| Hot shoe for external light: | No |
| Image stabilization: | Yes |
| Digital still capability: | Yes |
| MPEG movie mode: | No |
| USB streaming: | No |
| IEEE1394 (Firewire) output: | Yes |
| USB output: | Yes |
| S-Video output: | Yes |
| Width: | 4.5 inches |
| Height: | 3.9 inches |
| Depth: | 10.7 inches |
| Weight: | 45 ounces |