LG 55-LM8600
User Manual

To download the operating manual, right-click the download icon and select "Save As" (or "Save link as", "Save target as", etc).
If you're happy with the manual, a small
donation
would be very much appreciated. Thanks!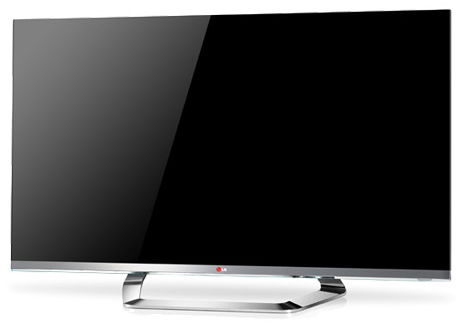 Features
Flicker Free 3D
3D Glasses
Dual Play
Cinema Screen Design
Skype Compatible
Description
55" (139cm) 3D, FULL HD LED LCD TV
Released June 2012
LG's Cinema screen design has a resolution of 1920 x 1080p in a minimised frame with less distraction. The inbuilt 3D provides clear and crisp images. This TV can also convert regular 2D TV, blu ray and DVDs to 3D. The depth of the 3D effect can be adjusted to suit the individuals preference. It includes 3D Sound Zooming - where the sounds are sychronised with on screen images, 3D World that finds 3D movies to watch via the remote.
The Dual Play enables 2 gamers to play 2D video games together on one screen.
A Home Dashboard that is simple with room for customisation.
Smart Share features including WIDI - enables a fast and easy connection between Laptop, PC and the TV wirelessly; DLNA - so you can use your PC, tablet or smart phone to browse through your media files and then watch on the TV; Smart Share Plus Mobile HD Link - HD content via a micro HDMI cable from your phone on your TV; Smart Share Plus -2nd Display - watch blu-ray or TV programs on your smart phone or tablet PC from anywhere within the WI-FI range of your TV.