Mackie Big Knob
Features
Tabletop level control / monitor switcher / source selector & talkback box
Big, convenient volume knob for precise level adjustments
Switch between 3 sets of studio monitors
Built-in Talkback microphone for easy communication with musicians
Dual Headphone outputs with independent headphone mix bus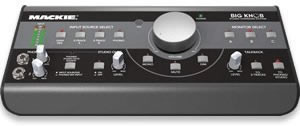 Product Description from Mackie:
The Big Knob is a simple yet powerful desktop audio control center that lets musicians and engineers get right to the business of making music in four major ways: Level Control, Studio Monitor Selection, Input Source Selection and Talkback & Headphone Control.
Precise Level Control Using a big, convenient volume knob, Big Knob lets you adjust volume levels with a simple, intuitive knob, not with a mouse and screen. The end result is a higher degree of precision and much quicker level adjustments.
When it comes to mixing, pros know it's best to get a second, and third, opinion. So Big Knob lets you quickly switch between 3 pairs of studio monitors, or 2 studio monitors and a subwoofer, or studio monitors and a home stereo, or any other combination of powered speakers.
On the input side, Big Knob lets you connect up to 4 stereo input sources at once. This means you can simultaneously connect to your computer/DAW outputs, CD player, cassette deck and even a turntable using the premium onboard RIAA preamp. You can even connect keyboards, guitars, drum machines, samplers - anything you'd like to hear - through your monitors. This makes Big Knob great for comparing your mixes-in-progress to your favorite CDs, for archiving your old LPs, jamming along to your favorite tune, and lots more.