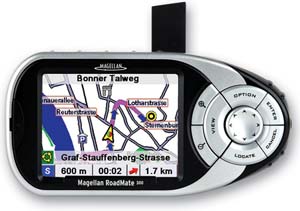 Magellan Roadmate 300 (Europe)
Product description from Magellan:
The Magellan RoadMate 300 portable auto navigation system makes navigation easy, with voice prompting, turn-by-turn guidance and the latest colour touch screen technology. It comes preloaded with the major roads network of Europe plus a ready-to-use SD card preloaded with detailed cartography of your country and neighbouring areas.
The Magellan RoadMate 300 calculates your route and automatically updates your directions when you decide to take a detour. You can route anywhere on the detailed maps and/ or on the basemap without having to download anything from your PC. The Magellan RoadMate 300 comes with a built-in map of major European roads and motorways. And it also includes a 512 secure digital (SD) card pre-configured with detailed maps of your country and some neighbouring countries.
The detailed maps include an extensive list of points of interest (POI). POIs are organized into categories and sub-categories for easy browsing or searching by name or nearest to a location. Find a specific petrol station, restaurant or hotel, etc. so that you can navigate to the nearest amenity or one along your planned route.
The new Magellan Trip Planner enables you to select multiple destination points from your address book before you set out on your driving adventure. Your Magellan RoadMate 300 will guide you from one point to the next without the need to select a new destination after each stop.
Lightweight and portable, the Magellan RoadMate 300 goes wherever you go, from your personal vehicle to your company car, or even to your recreational vehicle. No professional installation is required. Simply plug it into your cigarette lighter.
Features:
Easy-to-use
Intuitive design and user-friendly technology are combined with an extra large bright color touch screen and dynamic backlit keypad for easy operation even at night.
Speaks your language
German, English (UK or US), French, Dutch, Italian or Spanish Voice guidance can be selected on the device.
Enhanced GPS Accuracy and Reliability
Magellan RoadMate finds your location and the map continuously moves with you thanks to TrueFix™ technology. Tracking up to 14 GPS satellites simultaneously, assisted by WAAS2 and EGNOS3, the Magellan RoadMate is accurate to within 3 meters or better so that you can can be certain that you know where you are and where you're going.
Detailed street routing right out of the box
The Magellan RoadMate 300 comes with a built-in map of major European roads and motorways. It also includes a 512 MB SD card pre-configured with detailed maps of your country and neighbouring countries.
All pre-loaded SD cards are available for purchase as accessories.
Advanced points of interest database
The POI database provides listings in your downloaded region, including businesses, banks, hotels, airports, petrol stations, restaurants, and more! You can select your destination by name or category to find the nearest amenity along your planned route. Sub-categories provide access by allowing you to choose the specific type of restaurant, service or amenity that you require.
Easily enter addresses with QuickSpell®
QuickSpell aids in rapid address entry with minimal keystrokes and accelerates your data entry by intelligently sorting matching letters to the available word and number entries.
Address Book
Store up to 200 personal or business destinations per user for a total of 600. Each user can personally select their top three so that they are always on hand.
4 ways to select your route
Shortest Time – an advanced algorithm calculates your route using shortest distance and speed limit factors.
Avoid Toll Roads – determines your best route avoiding toll roads.
Least Use of Motorways – calculates your route through urban and side streets enabling you to avoid motorways wherever possible.
Most Use of Motorways – provides directions using motorways wherever possible.
3 guidance screens with easy to use interface
TrueView™ – shows a detailed view of the actual road layout for approaching turns and information about directions at junctions.
Map View – super bright, high-resolution display screen with bold and easy-to read icons and text. Zoom in or out on a detailed map. Also choose from several different colour combinations to display your favorite look.
List of directions – details when and where to expect turns along the route.
Turn-by-turn guidance with voice prompting
Dynamic turn-by-turn guidance with TrueView® 3D navigation and friendly voice prompting clearly indicates when to make your next turn. The voice prompt tells you when to turn, and you can confirm the direction at a glance. There's no need to keep an eye on the screen as you follow your route.
Magellan Trip Planner
The new Magellan Trip Planner makes navigating multiple destination journeys easier than ever. Store up to 20 trips with up to 20 destinations, all without re-entering destination points whilst travelling.
Auto Re-route
The Magellan RoadMate 300 automatically calculates a new route when you decide to take a detour because of heavy traffic or a closed road.
Route Exclusion
Do you want to avoid a certain road or direction? Simply press a button and your Magellan RoadMate 300 will find another route.
Instant Locate
Provides information about your present location so that you can direct emergency services and roadside assistance.
Automatic startup and shutdown
The unit automatically turns on when you start the car, so the Magellan RoadMate 300 is ready to go when you are.
Easy installation
Do it yourself installation is quick and easy, and the included windscreen mount4 makes it easy to fit in any car. No wiring is required, simply plug in the power cord and you are ready to go.
True mobility
Lightweight and truly portable, the Magellan RoadMate 300 is easily transferred from car to car, so you can take it with you wherever you go. Thanks to its compact size and light weight you can easily take it with you on business trips or whenever you change vehicles.