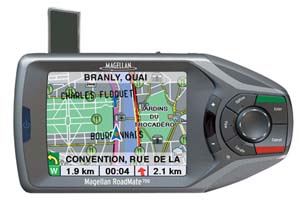 Magellan Roadmate 700 (Europe)
Product description from Magellan:
Imagine having a personal assistant in your car, guiding you turn by turn, with a friendly voice and visual signals, even when you don't know the address. That's exactly what you get with the Magellan® RoadMateTM 700 portable GPS Auto Navigation System. Forget about sorting through large folding paper maps or taking the time to print out Internet directions. With a built-in map database of Europe there's no need to download mapping information from your computer. Simply turn it on, select a destination using the latest in full-color, touch screen technology or the dynamic backlit keypad and within seconds you're on your way.
The Magellan RoadMate 700 has over 750,000 points of interest built-in, making it easy to find your destination quickly and easily. Search by name or category for petrol stations, restaurants, hotels, ATMs, sights, amusements and more, whether you're driving cross-country or to an unfamiliar address across town.
Feaures:
Easy to use
Intuitive design and friendly user interface are combined with an extra large touch screen and dynamic backlit keypad for easy operation, plus a full-color screen that automatically adjusts to the light conditions for easy viewing day or night.
Turn-by-turn guidance with voice prompting.
Dynamic turn-by-turn guidance with TrueView® 3D navigation and friendly voice prompting clearly indicates when to make your next turn. The voice prompt tells you when to turn and you can confirm the direction at a glance. There's no need to watch the screen as you follow your route with confidence. Voice guidance has 6 languages to choose from: German, English, French, Dutch, Italian and Spanish.
Comprehensive mapping
With detailed mapping of the Europe1, you can travel the country with no need to download new data. A single seamless database, built-in to the hard drive, contains all major city streets as well as federal, state and county roads and highways.
True mobility
Lightweight and truly portable, the Magellan RoadMate 700 is easily transferred from car to car, so you can take it with you wherever you go. Its compact size and light weight enable you to easily take it with you on business trips or when you change cars.
Built-in Tutorial
There are fifteen different topics in the built-in tutorial to help you when you really need it, when you are on the road. You can easily access the tutorial, in six languages, at any time to find answers about Reading the Guidance Screen, Entering an Address, Accessing Previous Destinations, Using the Trip Computer, Personalizing Settings and more.
Exceptional GPS Accuracy and Reliability
Magellan RoadMate finds your location and the map continues to move with you by tracking up to 12 GPS satellites simultaneously. Assisted by the Wide Area Augmentation System (WAAS) and the European Geostationary Navigation Overlay System (EGNOS), the Magellan RoadMate is accurate to within 3 meters or better.
Advanced points of interest database
The comprehensive POI database provides over 750,000 listings in over 40 categories, including restaurants, petrol stations, ATMs, historical monuments, parks and more! You can easily select your destination by name or category to find the nearest petrol station, historical monument, rest stop, or restaurant along your route.
4 ways to select your route
Shortest Time – an advanced algorithm calculates your route using shortest distance and speed limit factors.
Shortest Distance – determines your best route by shortest distance traveled.
Least Use of Freeways – calculates your route through city and side streets enabling you to stay off the highways when possible.
Most Use of Freeways – provides directions over freeways, highways and interstates.
3 guidance screens with easy to use interface
True View – shows a detailed view of actual road layout for upcoming turns and information about intersection maneuvers.
Map View – super bright, high-resolution display screen with bold and easy-to read icons and text. Zoom in or out on a detailed map. Plus select from 9 different color combinations to choose your favorite.
Maneuver List – details when and where to expect turns along the route.
Route Exclusion
Want to avoid a certain road or maneuver? Simply press a button, the Magellan RoadMate 700 will find another route.
Easily enter addresses with QuickSpell® and FlexAddressTM
QuickSpell intelligently sorts, searches, and checks spelling for rapid address entry with minimal keystrokes, accelerating your data entry by matching letters to the available destinations. FlexAddress simplifies your address search. You only have to type any significant word in the address name and picks the one you want from the provided list.
Auto Re-route
The Magellan RoadMate 700 automatically calculates a new route when you decide to take a detour because of heavy traffic, a closed road or just to grab a cup of coffee.
Address Book
Store up to 100 personal or business destinations per user for a total of 300 addresses. Each user can even personally select their top three destinations to keep them handy.
Instant Locate
Provides information about your present location so you can easily direct emergency services and roadside assistance.
Automatic startup and shutdown
The Magellan RoadMate 700 turns on automatically when you start your car. Just turn it on and go!
Easy installation
Do it yourself installation is quick and easy. Just choose one of our mounting accessories. There is no wiring required, simply plug in the power cord and you are ready to turn it on and go.
IRDA connection to download address
The address book can be filled with address data from your Personal Device Assistant* or SmartPhone through the IRDA infrared connection.