Panasonic PV-DV103 MiniDV Camcorder
User Manual

To download the operating manual, right-click the download icon and select "Save As" (or "Save link as", "Save target as", etc).
If you're happy with the manual, a small
donation
would be very much appreciated. Thanks!
Features
MiniDV camcorder with 10x optical and 700x digital zoom with electronic image stabilization
680K pixel resolution
2.5-inch color, swivel LCD, color viewfinder, cinema mode
Digital still mode saves images to tape
Connects to PCs and Macs via Firewire (IEEE1394); serial connection transfer for stills
Product Description From Amazon.com:
MultiCam camcorders feature digital camcorder and digital still camera capabilities, all in one easy-to-use camcorder.10x Hi-Definition Zoom - A zoom this powerful works like a telescope to produce close-up shots with extraordinary clarity. And with seven different zoom speeds, you can control how quick you go from a wide angle to telephoto zoom - anywhere from 2 to 22 seconds. Through advanced digital technology, the zoom ratio on our digital camcorders can be increased to 700:1, producing an incredibly, clear, close shot.EfficiBright is on the Compact Camcorders which are equipped with this built-in LED light, which adds a bright light to your subjects, giving you a better shot while preserving battery life.The 2.5" Diagonal Color LCD Monitor lets you view your subject in full color during shooting and playback through a large, 2.5" LCD screen. Digital EIS is a unique idea that helps compensate for unintentional hand and/or camcorder movement. It even reduces unwanted jitter from recordings made in a car, or while walking. The audio zooms in along with the picture, enabling you to pinpoint distant sound emanating from your subject. And Wind Noise Reduction helps to cut down on unwanted background noise.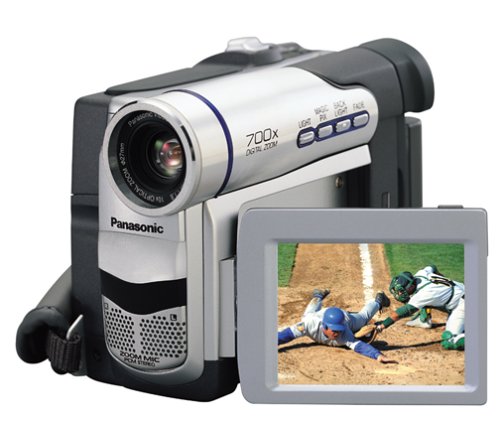 Specifications
| | |
| --- | --- |
| Format: | MiniDV |
| CCD: | 1/6", 680K |
| 2-in-1 MultiCam Camcorder: | Yes |
| Mega Still Pictures (1 Million pixel still interpolation): | No |
| Hi-Definition Zoom: | 10x |
| Digital Zoom: | 700x |
| Color LCD Monitor: | 2.5" diag. |
| Viewfinder: | Color |
| i.LINK 1 (IEEE 1394 PC Interface): | Yes |
| PHOTOVU LINK (RS-232C Serial Connection): | Yes (Still Image) |
| PHOTOVU LINK (USB Connection): | No |
| CARD LINK: | No |
| USB Port: | No |
| Electronic Image Stabilization: | Dual (Rec/Play) |
| PhotoShot Built-in Digital Still Camera: | Yes (with optional cable and software) |
| SD Memory Card Included: | No |
| Progressive PhotoShot Mode: | Tape Only |
| Picture-in-Picture: | Yes |
| Web (camera): | No |
| Built-in SD Drive: | No |
| MagicPix Images (color recording in low light): | Yes |
| Built-in Light: | Yes |
| Quick Start: | Yes |
| MPEG4 Movie Messenger System: | No |
| Zoom Mic: | Yes |
| IR Remote Control: | Yes (optional) |
| High Speed Shutter (Auto, 1/60 - 1/8,000): | Yes |
| Easy Cassette Eject: | Yes |
| Digital Effects (Record and Playback): | Yes |
| Cinema Mode: | Yes |
| 5-Mode Program AE (Auto Exposure): | Yes |
| Audio: | PCM (12-bit/16-bit) |
| Wind Noise Reduction: | Yes |
| Slow/Frame Advance (with IR Remote Control): | Yes |
| Index Search Scene/Photo (with IR Remote Control): | Yes |
| Focus (Auto/Manual): | Yes |
| Self Record: | Yes |
| SP/LP Record Mode: | Yes |
| Multi-Screen: | Yes |
| Audio Dubbing: | Yes (SP Only) |
| Battery and Tape Indicators: | Yes |
| S-Video Out: | No |
| Headphone Jack: | Yes |
| EfficiBright LED Light: | Yes |
| Dimensions (H x W x D): | 33/8 x 25/8 x 47/8 inches |
| Weight: | 1.01 lbs |