Panasonic PV-GS2
User Manual

To download the operating manual, right-click the download icon and select "Save As" (or "Save link as", "Save target as", etc).
If you're happy with the manual, a small
donation
would be very much appreciated. Thanks!
Features
22x Zoom Lens with 800x Digital Zoom
Image Stabilizer
Program Auto Exposure
Digital Effects
Photo Mode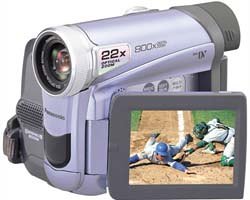 Product Drescription from Amazon.com:
Except for higher optical zoom rate (22x vs. 20x), the Panasonic PV-GS2 camcorder is practically the complete analog to the PV-GS12. It is compact-size, light, usable, and has got a SD memory card slot, IEEE1394 interface, USB port, enables to take stills together with filming, is equipped with soft-skin mode and other features, which are similar to the PV-GS12. The only difference is that the former does not have the built-in light. If you shoot mainly in natural light you will not need this feature.
Key Features: 22x Zoom Lens with 800x Digital Zoom-- Shooting from distances is no problem with 22x optical zoom and 800x digital zoom. You can control how quick you go from a wide angle to telephoto zoom - anywhere from 2 to 22 seconds.
Image Stabilizer
Panasonic invented the digital electronic image stabilization (D-EIS) to compensate the unintentional hand and camcorder movement to stabilize your recordings.
Program Auto Exposure
You can prepare your Panasonic PV-GS2 camcorder for almost any recording condition by using the following automatic exposure settings: Sports Mode, Portrait Mode, Low Light, Spot Light, Surf & Snow.
Digital Effects
Add exciting picture effects in both recording and playback modes to make your videos come to life (Mirror, Strobe, Mosaic, Slim, Stretch, Trail, Multy picture, Sepia, Nega, Solarization, Monotone).
Cinema Mode gives the ability to record video in wide screen mode.
Photo Mode
With the photo feature, you can record 640x480 resolution JPEG stills SD Memory Card and MultiMediaCard
This Panasonic PV-GS2 camcorder uses Multimedia Card or SD Memory Card - easy way to transfer still images to your PC. USB Terminal Still images are stored on the SD Memory Card, and can be transferred to your PC via USB connectivity.
Web Cam
The camcorder is equipped with a built-in Web-camera Wind Cut The Wind cut function minimizes wind noise.