Pioneer DV-525 DVD Player
User Manual

To download the operating manual, right-click the download icon and select "Save As" (or "Save link as", "Save target as", etc).
If you're happy with the manual, a small
donation
would be very much appreciated. Thanks!
Features
Plays Dolby Digital/DTS DVDs, video CDs, audio CDs and CD-Rs
Component-video outputs
S-video and composite-video output
10-bit video processing
96 kHz, 24-bit digital audio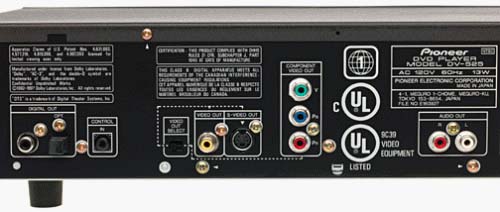 Product Description From Amazon.com:
Using Pioneer's exclusive Twin Wave Laser pickup, the Pioneer DV525 DVD player reads DVD, VCD, CD, or CD-R discs. This player offers 10-bit video processing, a 96 kHz sampling frequency, and a 24-bit resolution audio converter with 96 kHz, 24-bit digital output. The Pioneer DV525 DVD player also features Pioneer's exclusive Viter-Bi RF Decoding Process for improved DVD error correcting capability. A digital servo provides precise data reading, while automatic gain level adjustment minimizes jitter of individual discs.
The Pioneer D525 design include a resume function that lets you stop a movie and resume playback from where you left off; an onscreen display in English, Spanish, and French; and an ergonomic remote control. A memory function recalls setup conditions such as language, subtitle, aspect ratio, and mode for up to 15 discs. Other options include selectable background color and the choice of 48 kHz or 96 kHz output.
Technical Data
| | |
| --- | --- |
| Digital audio outputs: | Optical SPDIF, coaxial RCA |
| Digital-to-analog converters, video: | 10-bit |
| Digital-to-analog converters, audio: | 24-bit, 96 kHz |
| Analog video outputs: | Component, S-video, composite |
| Analog audio outputs: | 2-channel RCA |
| Other terminals: | Control In |
| Video black-level control: | Yes (cinema, animation, standard) |
| Audio dynamic range adjustment: | Large, medium, small, off |
| Bitstream transmission rate display: | Yes |
| Background screen color option: | Blue, black |
| Headphone jack: | No |
| Signal-to-noise ratio: | 115 dB |
| Total harmonic distortion: | 0.002 percent |
| Aspect ratio compatibility: | 4:3, 4:3 letterbox, 16:9 |
| Speeds: | Slow motion-1/16, 1/8, 1/4, 1/2 in forward direction, single slow playback in reverse |
| Special effects: | Freeze frame/field, frame advance |
| Search Modes: | Title, chapter/track, time |
| Programmable: | Yes |
| Repeat functions: | Chapter/track, title, A-B segment |
| Resume play from stop: | Yes |
| Parental lock: | Yes |
| Remote control: | Full function |
| Dimensions: | 16.5 by 11.25 by 4 inches high |
| Weight: | 6.25 pounds |