Samsung TX-M1967
User Manual

To download the operating manual, right-click the download icon and select "Save As" (or "Save link as", "Save target as", etc).
If you're happy with the manual, a small
donation
would be very much appreciated. Thanks!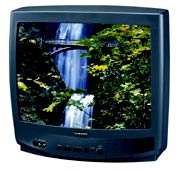 Product description from Samsung:
The Samsung TXM1967 is a 19" TV with Earphone Jack and Front and Rear A/V inputs.PRODUCT FEATURES: Up To 320 lines of horizontal resolution; Dark Tint Picture Tube improves colors & picture contrast; Dynamic black level expansion & white peak limiter further improves picture contrast; 2.5 Watts Audio Output for improved sound quality; 181-Channel Synthesized Tuning; Front & Rear A/V Inputs for higher quality results than using RF; Earphone Jack on front panel for silent viewing without disturbing others; Front-Panel Menu Button.