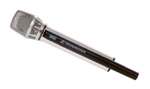 Sennheiser SKM 5000
Features
Interchangeable microphone heads:
Battery status transmitted to suitable receivers
Quick change accupack or battery pack
Sensitivity switchable in 5 steps
"HiDyn plus" noise reduction system
16 switchable carrier frequencies in a 24 MHz window, PLL-controlled
Product Description From Sennheiser:
Condenser or dynamic head?
Five different microphone heads are available for the SKM 5000 hand-held transmitter: four condenser heads and one dynamic super-cardioid head. Which applications are condenser heads suitable for and when should the dynamic capsule be used?
The condenser capsules will be the standard heads. They are distinguished by a detailed sound pattern. They are clearer in the treble and have greater presence than dynamic capsules. They are suitable for all applications where studio quality sound is required.
The dynamic capsule has a less detailed sound and some people find that it sounds "warmer". In addition, the dynamic capsule is more insensitive to moisture than the condenser models and is therefore especially suitable for hard rock 'n' roll.