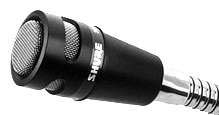 Shure 503bg
Features
Optimized performance in voice processing and computer voice recognition applications
Smooth frequency response with excellent fidelity in the voice range
Cardioid pickup pattern and close-talking operation keep unwanted signals and background noise at low levels
Constant output over voice spectrum when close talked
Humbucking coil minimizes undesirable hum effects such as CRT interference
Low-impedance design permits long cable runs in extreme hum fields
Small unobtrusive design does not interfere with CRT visibility
Frequency response: 100 to 7,000 Hz

Product Description From Shure:
Developed for computer voice recognition applications, the 503BG gooseneck microphone offers excellent voice fidelity while reducing background noise. Also use the 503BG in other close-talking applications such as paging and talkback.
The 503BG gooseneck microphone features a low-impedance, moving coil type transducer with an integral humbucking coil and an attached two-conductor shielded cable with a built-in strain relief. It produces a frequency response with an essentially constant output voltage over the voice spectrum when used close to the sound source.
The 503BG's case is aluminum with a black enamel finish. It mounts to a gooseneck, a fixed pipe or a microphone stand using a standard 5/8"-27 thread.