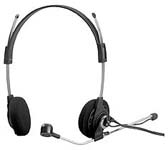 Shure 512
Features
Ideal for voice recognition or communication in production environments
Cardioid dynamic
Frequency response: 50 to 15,000 Hz
Product Description From Shure:
The 512 microphone consists of the popular SM10A microphone element mounted on a lightweight headband with a single earphone.
The Model 512 mic combines an efficient "open-air" headphone with a close-talking dynamic microphone. The unit is unobtrusive, durable, comfortable, and provides a wide frequency range.
The 512 was designed for sports and news announcing, intercommunications systems, and special events remote broadcasting. It offers convenient hands-free operation, and a lightweight frame to reduce user fatigue. The unidirectional pickup pattern reduces unwanted background noise, permitting its use in noisy environments. The microphone characteristics are tightly controlled resulting in consistent response and output, and the headphone response is tailored to enhance voice intelligibility.
The headband easily adjusts to fit a variety of head sizes and hairstyles, and the microphone boom can be adjusted to accurately place the microphone cartridge at the corner of the user's mouth. The microphone is supplied with a foam windscreen to reduce explosive "popping" sounds, and a cable clip to secure the cable to clothing.