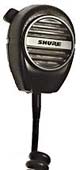 Shure 514b
Features
Smooth, extended frequency response from 100 to 6,000 Hz -- provides highly intelligible voice response
"Million-Cycle" leaf-type switch -- provides outstanding reliability, even under extreme conditions
Tough ARMO-DUR® case
Long-life, neoprene-jacketed, coiled cable
Supplied mounting bracket fits hang-up button on back of microphone
Product Description From Shure:
The Shure 514B is a low impedance, dynamic, handheld microphone designed for paging and public address systems It provides clear, natural voice response and high intelligibility.
The 514B connects to microphone inputs rated at 19 to 300 ohms. It can be used in applications that require long cable lengths, or where severe hum conditions are present. For connection to high impedance inputs, use Shure A95 Series Line Matching Transformers.
The microphone is provided with a four-conductor (two shielded) coiled cable and a "Million-Cycle" leaf-type switch designed for constant use under the most rigorous conditions. The 514B fits naturally and comfortably in the hand and is not affected by heat or humidity. The exclusive ARMO-DUR® case resists mechanical shocks and vibration, and is impervious to oil, fumes, salt spray, ultraviolet radiation, and corrosion.