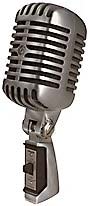 Shure 55sh Series II
Features
Classic appearance, modern performance
Frequency response tailored for speech, vocals and instrumental music
Cardioid directional pattern for optimum performance in adverse acoustic environments
Shock-mounted cartridge minimizes stand-transmitted noise, ensures quiet operation
Rugged die cast case and mechanical design for reliability under rigorous conditions
Self-tensioning swivel mount, permits tilting through 45 degrees forward and 80 degrees backward
Product Description From Shure:
The 55SH Series II microphone has a cardioid (unidirectional) polar pickup pattern that minimizes sound pickup from the rear of the microphone. This allows the Model 55SH Series II to be used in close proximity to loudspeakers without creating feedback problems, and it can perform under adverse acoustic conditions where omnidirectional microphones cannot.
The 55SH Series II has a low-impedance balanced output designed for connection to microphone inputs rated at 75 to 300 ohms. The microphone features a cartridge shock mount to reduce stand noise, an On/Off switch, and an attached, self-tensioning, 5/8"-27 thread swivel mount.
This microphone is ideal for public address or theater-stage sound systems, as well as for broadcasting, recording, and other sound applications where a stand-mounted microphone with a classic look is desirable.
The microphone is not affected by heat or humidity. Its exclusive ARMO-DUR ® case is immune to oil, grease, fumes, salt spray, sun, rust, and corrosion -- and is outstanding in its ability to resist mechanical shocks and vibration. The "Million-Cycle" leaf-type switch is designed to withstand rigorous operating conditions and constant use.